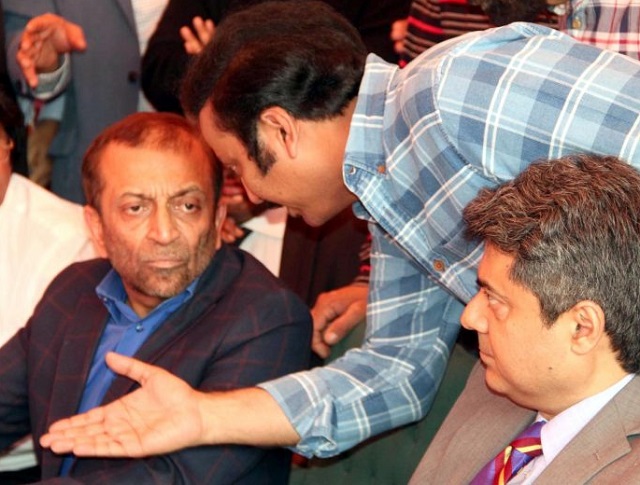 ---
KARACHI: In order to mend differences that split Muttahida Qaumi Movement-Pakistan (MQM-P) into two factions – PIB and Bahadurabad – both sides held meetings on Friday to woo each other into joining their ranks.

Both the factions were willing to sort out differences, but none was ready to hand over the reign of the party to the other.

"The PIB workers convention led by Farooq Sattar is illegal," said the resolution presented by MQM-P Senior Deputy Convener Amir Khan during the general workers' meeting held in Gulshan-e-Iqbal on Friday.

The meeting adopted the resolution endorsing Rabita Committee's decision of appointing Dr Khalid Maqbool Siddiqui as convener. It termed PIB activities illegal and against party's constitution.

I am still party head: Sattar

"The party will now be led in a democratic manner according to the constitution and rules. The decision to hold intra-party election will be solely made by the Rabita Committee. No one else can hold intra-party election without the committee's consent," stated the resolution.

People from various areas of Karachi and other districts of Sindh present during the meeting voted in favour of the resolution.

On the occasion, Siddiqui said, "We want to run the party using democratic culture rather than imposing ideas and decisions."

"Time and again, I have invited our former convener Farooq Bhai and others to join us. Leaders do not demand power, instead share power in order to strengthen the party," he said, conveying a message to Sattar that the Rabita Committee was a superior forum and all would have to work under its ambit.

MQM-Pakistan split all the more likely

He further said, "If you had demanded power for party workers, we would have given it you. But unfortunately, you are demanding authority to appease a person, which is not possible for us."

Siddiqui said, "I don't care about the convenership as I had already rejected the offer four times. Party and its workers are important to me."
Earlier, Amir Khan, Karachi Mayor Wasim Akhtar, Faisal Subzwari, Kanwar Naveed Jamil, Shabbir Qaimkhani, Aminul Haq and others addressed the general workers convention.

Sattar allows Bahadurabad to nominate Senate candidates

Before the MQM-P Bahadurabad faction's general workers' meeting, Sattar offered an olive branch by allowing them to choose four candidates of their choice for the upcoming Senate election.

Speaking to reporters outside his PIB Colony residence in Karachi on Friday, he said, "After a long consultation with my party members, I ask them [Bahadurabad faction] to come to me with four names of candidates for the Senate election."

He said, "It was wrongly portrayed in the media that I wanted to give Senate tickets to candidates of my personal choice, but today I publicly announce and allow the Rabita Committee to give me four names that I will endorse and take back names of candidates I had put forward."

He said Senate election was not the issue, but rather the dispute was over "authority and power", adding that the party leader "should have the power to make decisions".

"I don't want to grab power like Altaf Hussain did nor do I want to work as President of Pakistan Mamnoon Hussain, whose position is ceremonial," he added.

Sattar called the Bahadurabad faction's workers' convention illegal and said, "We have already dissolved the Rabita Committee so all of their activities are illegal."

He said that the intra-party elections to elect a new Rabita Committee will be held on February 18 (tomorrow) at KMC ground where participants from all over the country would participate.
COMMENTS
Comments are moderated and generally will be posted if they are on-topic and not abusive.
For more information, please see our Comments FAQ