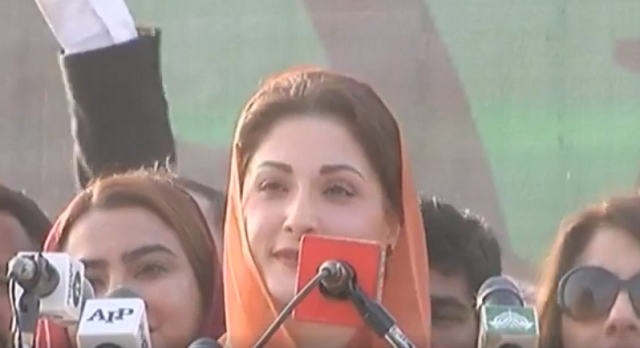 ---
Former prime minister's daughter Maryam Nawaz has said that conspiracies are being hatched to keep former Nawaz Sharif away from the masses.

Addressing a rally in Mansehra, Maryam further stated that slapping a contempt of court on Nawaz is a "contempt of vote" of all those who voted for Pakistan Muslim League-Nawaz (PML-N).

Stating it is the masses who will take the decision for Nawaz and not the courts, she said the people of Lodhran "masses court held eligible as eligible and ineligible as ineligible."

Maryam says Lodhran by-poll result has set the tone for 2018 polls

"Every court of masses is giving its ruling in favour of Nawaz," Maryam said further stating that the former PM's case will be decided by "the court of the people." She also said that people's trust in the judicial system is dented.

Taking a jibe at National Accountability Bureau's request to place Nawaz on the Exit Control List (ECL), Maryam stated that "we are not the kind who run away."

"The graves of his forefathers are here and his will be here too. He will stay here in your hearts," she said further.

The former first daughter also asked how an elected cadidate can be called a plunderer. "Calling an elected candidate a plunderer is an explanation of which constitutional law?"

"The more you will try to press down Nawaz Sharif, the stronger he will emerge," Maryam told a roaring crowd in Mansehra.

Referring to Lodhran by-elections, she said Imran Khan could not find an escape after his party's loss in the constituency. "After the loss, he is now saying our candidate wasn't qualified."


COMMENTS (4)
Comments are moderated and generally will be posted if they are on-topic and not abusive.
For more information, please see our Comments FAQ