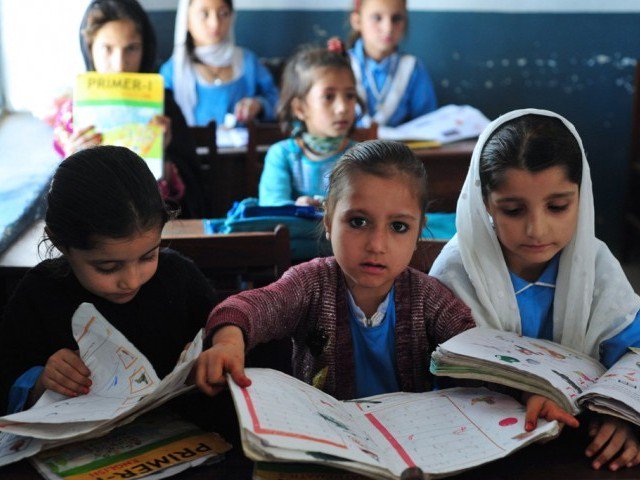 ---
KARACHI: With elections looming, the political landscape of the country is bracing itself for election campaigns which will naturally turbo-charge emotions and leave very little space for informed public debate.

However, as Pakistan undergoes its second democratic transition of power in a decade, it is important for citizens to realise that they can hold elected representatives responsible for the promises made during previous campaigns by tracking the progress of development initiatives.

In an effort in this regard, Alif Ailaan, a non-profit organisation working for the education sector, recently released a report, critically analysing the progress and pace of education reforms in Sindh over the past five years.

The group has pledged to release such a report for all the provinces in the country before the general elections of 2018.

Provincial govt to continue with education reform project

According to the report, there are about 22.6 million children out of school in Pakistan, the majority of whom are girls. Over 6 million of these children belong to the province of Sindh.

In a damning assessment, the report says that despite tall promises, there is little the leaders of Sindh, or of Pakistan for that matter, can be proud of in terms of their contribution towards improving the quality of education in Pakistan.




Alif Ailaan notes that the Government of Sindh laid out its education policy with the Sindh Education Sector Plan, which identified four key areas the government was planning to focus on for the five years between 2014-2018.

According to the plan, the Pakistan Peoples Party (PPP) government promised to improve government schools, increase the quality of education across the province, ensure the timely availability and robustness of education data, and work towards better management of financial resources allocated for education.

PPP leaders stressed that they were more concerned with improving the structure of governance which oversaw the delivery of education to the people, but Alif Ailaan, while commending their vision, contends that "the pace at which the promised reforms take root in our system has to increase significantly in order for their impact to be felt at school level".

Breaking down the performance of the Sindh government, the non-profit has outlined major strides made in education reform in all the four key areas, and the shortcomings, as well as challenges, that need more attention.

Improving government schools

School management committees have been set up in all schools of the province, which include representatives from parents, and have received funds worth Rs1.2 billion. However, the distribution of these funds is often slow, and consequently "hamper the effectiveness of the committees to intervene in school decisions".

School-specific budgets have been approved, and Rs5 billion have been released to all primary and secondary schools of Sindh. The money goes towards solving problems like availability of furniture, stationery items, and improving school utilities. Here too, the non-profit has called for better "public financial management" of the money.

Sindh's education system to be overhauled, says CM

According to national education management data for the year 2016-17, many schools in the province face significant infrastructural challenges.

Alif Ailaan has ranked the infrastructure of primary schools in Sindh based on the availability of electricity, water, boundary walls, toilets and building condition.

Perhaps the most alarming revelation to come out of this list is that the top ranked school from Sindh, located in south of Karachi, with an accumulated score of 77.50, is ranked 62 on the national index.

A worrying trend is the disparity of scores between urban and rural establishments. In the primary and middle school infrastructure rankings, the top five spots are dominated by schools from Karachi and Hyderabad, with only a single primary school in Larkana making it to the top five on the primary school index.

Schools from Thatta, Tharparkar and Sujawal are ranked at the bottom.

Another major problems related to the improvement of government schools is student retention. Total high school enrolment in Sindh is a mere 15 per cent of total primary school enrolment, statistics show.

Released figures indicate that out of 6.67 million out of school children in Sindh, 1.87 million belong to the primary school going age of 5-9 years old. The remaining 4.8 million children are between the ages of 10-16 years corresponding to middle, high and higher secondary levels.

These numbers outline how a significant challenge in terms of ensuring maximum enrolment is the availability of schools at beyond primary level.

Some of this difference is mitigated by private schools, but "the Sindh government has no consolidated record of private schools, and does not include private schools in its annual census of education", the study shows.

Improving quality of education

Merit-based recruitment of teachers has been introduced into the schools of Sindh for the first time, with staff being hired based on their performance in "standardised tests".

Policymakers believe that by doing this, "the instrument of political appointment of teachers in the past has been rendered irrelevant and obsolete".

IBA Sukkur, Sindh University, and National Testing Service have been asked to conduct tests based on which teachers have been recruited, according to the report.

Improving education in Sindh: 'Pakistan is the graveyard of education reform'

In the last five years, over 30,000 teachers have been recruited on merit by the Sindh education department. This change, Alif Ailaan noted, "has the potential to be revolutionary for the education sector in Sindh".

According to the study, to fully capitalise on the hiring of over 1,000 head teachers through the merit-based system, all middle and high schools across Sindh need to be provided with head teachers or principals hired through the same process. This is a swiftly implementable measure that can dramatically change the quality of middle and high schools across the province.

In order to monitor the improvement of education quality, annual Standardised Achievement Tests (SAT) are being conducted for students at Grade V and Grade VIII level, which test their aptitude in language, maths and science.

The report also highlights how SAT tests have exposed the extremely low levels of learning outcomes being produced in the province, as students consistently fail all three subject tests, but praises authorities, revealing that "despite bitter criticism and increased scrutiny, the Sindh government has steadfastly continued to consistently conduct the exam, and publish its results transparently."



Based on the educational score index calculated using learning scores, gender parity and retention scores of schools, the top-ranked school in Sindh, located in Karachi, was listed at number 14 on the national level.

However, it is worth noting that schools from Sindh rank high on the gender parity index, with a majority of government schools in Sindh scoring 70 or more on a scale of 100.

Improving provision of education data 

Biometric verification of teachers is being carried out, which helps in monitoring teachers' attendance and addressing the longstanding issue of politically-appointed ghost teachers. A human resource management system linked to this has also been established. In addition to this, real-time monitoring is also helping gather data to better inform policy changes.

To further build on this policy, the next and most immediate step forward is to add to this, and incorporate a streamlined system to penalise absentee teachers and education managers, the non-profit group says.

Also, "despite significant strides in improving education data regimes, the absence of data on private schools represents a major blind spot for decision-makers".

Improving education finances

The government of Sindh has increased the education budget from Rs145 billion in 2014-2015 to Rs202 billion for 2017-2018. The move is part of a national policy to spend at least 20% of the total budget on education.

Alif Ailaan believes the increase in education budget needs to be met with commensurate increase in the effectiveness of financial management system in order to ensure adequately absorb increased funding.

Policy blind spots

Despite the overwhelming success of education reforms outlined above, Alif Ailaan has said that "there is a long way to before the objectives set out in the Sindh Education Sector Plan 2014-18 can be achieved".

They have identified major problems and challenges that will need to be tackled by the Sindh government as it enters the new election year.

Chief secretary to file reply on dual education standards in Sindh

First and foremost, the number of primary schools in Sindh vastly outnumber middle, high and higher secondary schools in the province. The non-profit organisation notes that limited channels are available for students graduating from primary schools to continue their post-primary education, and the government needs to focus on the immediate provision of middle and high schools across the province.



Secondly, there has been no large increase in enrolment of students in Sindh. Despite widespread recognition of the crisis of out of school children, enrolment levels stayed largely stable - indicating the limits to the efficacy of government enrolment programmes that are initiated without the adequate long-term planning and care needed to ensure that children that visit a school continue to go back.

Third, that there has been a slow, but steady and substantial increase in the learning outcomes in Sindh, as evidenced by the SAT results quoted in the study. These results, while indicating an improving overall trajectory, continue to be worryingly low, and are symbolic of a deep and persistent crisis inside classrooms in Sindh, and across the country.

Also, there is a significant imbalance in total boys and girls enroled in schools at primary, middle, high and higher secondary levels. This calls for a coherent plan that identifies major reasons for this trend.



Alif Ailaan recommends that districts consistently falling at the bottom of education rankings, developed using different metrics, should elevate access to quality education and address concerns immediately.

The authors of the study, in their concluding remarks, have expressed the hope that both the provincial governments and political parties themselves will invest in the recommended policy assessments, so that the period from 2018 to 2023, at least in terms of improving access to quality education, represents a period of more meaningful and impactful reforms.
COMMENTS
Comments are moderated and generally will be posted if they are on-topic and not abusive.
For more information, please see our Comments FAQ