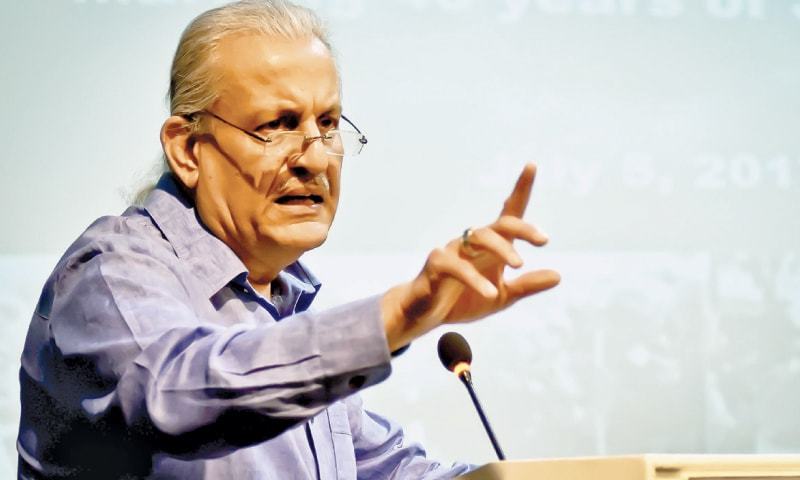 ---
ISLAMABAD: Senate Chairman Mian Raza Rabbani on Thursday said Pakistan was an independent state and would not bow before the dictates of the International Monetary Fund (IMF) or any other international financial institution.

Referring to an IMF report, he said interference in the internal affairs of Pakistan on the part of IMF and other financial institutions with regard to distribution of powers under the 18th Constitutional Amendment was worrisome.

Sheer size of CPEC portfolio appals IMF

Addressing a seminar on 'Fiscal Federalism' organised by the Senate of Pakistan and the Forum of Federation, the chairman said, "The centrist mindset is creating hurdles in the way of smooth implementation of the 18th amendment."

He said as per bureaucracy, the government was supposed to constitute the National Finance Commission (NFC) and not necessarily announce the award after every five years, which was against the Constitution.

The finance secretary, while taking chief secretaries of four provinces on board in a meeting, had decided to present the upcoming budget without the NFC, he claimed.

He said in the presence of parliament, the bureaucracy could not decide such matters.

He said, "The government, at the behest of the World Bank, has drafted a bill to control and exercise influence over matters related to the distribution of resources which is against the spirit of the Constitution and the 18th Amendment."

He observed that a proper mechanism was laid down and added the Council of Common Interests was strengthened as a parallel institution to the federal cabinet to manage the affairs between the Centre and the provinces and to ensure equal distribution of resources as per the spirit of Article 172 of the Constitution.

He reiterated that strong provinces would guarantee a strong federation and there was a dire need to implement the 18th Constitutional Amendment in letter and spirit to achieve the goal of a stronger, democratic and true federalist Pakistan.

Economy still poised for 5.6% growth: IMF

Speaking on the occasion, Senate Secretary Amjed Pervez Malik said the concept of fiscal federalism was not new as almost all the federal states had been practicing fiscal federalism in one form or the other.

He said Pakistan was a federal country and distribution of resources had impact on income, development, backwardness and poverty.

He said the Senate was expected to play a more effective role towards ensuring a conducive fiscal federalism.

International expert Hans Altherr said some of the important questions surrounding the issue of strengthening federalism, and the role of the Senate of Pakistan would be considered at the seminar.

Dr Ishrat Hussain, Dr Kaiser Bengali and other experts also shared their views during the event.
COMMENTS
Comments are moderated and generally will be posted if they are on-topic and not abusive.
For more information, please see our Comments FAQ