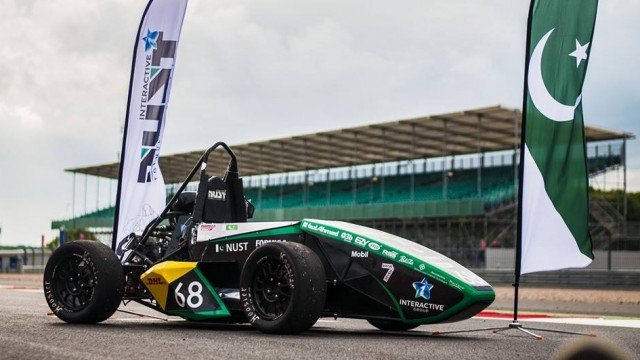 ---
ISLAMABAD: A group of female students from National University of Sciences and Technology (NUST) are employing mechanical skills to produce a car that will participate in the International Formula Student competition scheduled to be held at the Silverstone car racing track, United Kingdom (UK), this July.

Through excessive effort and hard work, the 15-member 'Team Auj' has successfully secured its place as a registered participant of the International Formula Student competition.

This initiative taken by young students raises awareness about the fact that in the motor-sports industry, women participation is gaining momentum as talented girls continue to utilize their skills and knowledge in designing and manufacturing a formula-style race car for international competitions.

Pakistani student bags world's highest marks in Cambridge Mathematics exams

The team is not only determined to land a position among the top most teams of the competition, but is also prepared to leave its impact on the society by encouraging women to put their knowledge and creativity to a better, more practical use, according a report published in an international newspaper.

Team Auj is one of the many initiatives to increase women empowerment, but what sets it apart from other campaigns is its access to an international audience.

It also aims at encouraging Pakistani women to involve themselves in projects that usually involve only men, and broaden their horizons, allowing them to become more independent.

Thus far, Team Auj has managed to win the support of some of the biggest companies in Pakistan and attract many sponsors through the unique and significant concept.

Work of Pakistani artists on display at Jamshoro arts conference

The students are demonstrating their exemplary skill to an international audience through Formula Student, enabling the world to see the real capability of Pakistani women.

It would be a delight to see the team succeed in achieving its objectives both in the UK and within Pakistan, the report in an international paper said, adding Team Auj was a praiseworthy initiative to bring about social development and create a favorable environment for advocates of social reforms.

Talking to APP, Wardah Jamal, Marketing Manager of Auj, said that it was the "first all girls team" which would represent Pakistan in the competition with car number 199 on the race track.

She said all team members were the NUST students, who were selected for the competition based on the university's BLC (Business Logic Case). BLC, she said, contained details of projected costs, sales volume, target market and the viability of the project on a larger scale.

"Due to the excellence of BLC we cleared stage one of the competition," she added.

Three Pakistani students win international acclaim for outstanding space research

Wardha said the team members belong to different disciplines, including electrical engineering, industrial designing and business management, while there was no mechanical engineer in the team.

"The competition is organized by the Institute of Mechanical Engineering. Hence, mechanical engineers can be an asset to any team for this competition, but Team Auj aims to prove that you do not have to be confined by your university degrees. You can explore your options if you're ambitious," she said.

"We promote youth development and women empowerment. Women are competing in a field that's restricted solely for males. Our female team members perform the work normally done by males such as cutting, grinding, welding and networking in the market."

The race car driver of team Auj, she added, was also a female, who would be competing with men on the race track.
COMMENTS
Comments are moderated and generally will be posted if they are on-topic and not abusive.
For more information, please see our Comments FAQ