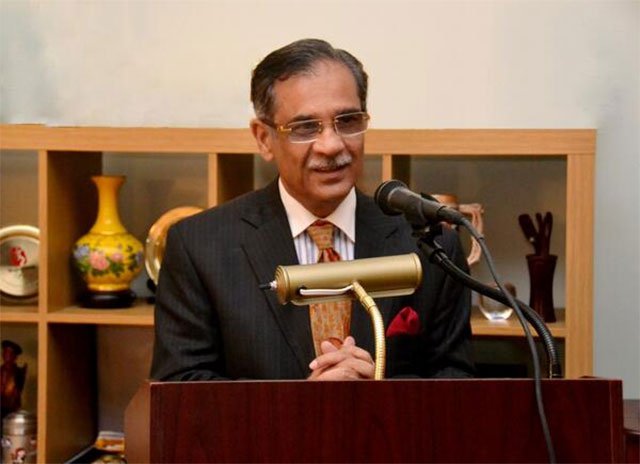 ---
Chief Justice of Pakistan Mian Saqib Nisar said on Thursday that there were a few people still present in the Punjab police who are promoted despite facing charges of extrajudicial killings, according to Express News.

Hearing the out-of-turn promotion case in Islamabad on Thursday, the CJP remarked that the court had already banned out of turn promotions in Sindh, and could not allow them in Punjab.

Judiciary is paralysed due to govt, says CJP

"A few people in Punjab were promoted despite being under scrutiny for extrajudicial killings. The court will roll back any executive order for out of turn promotions. People who do their job will be awarded with medals and rewards," he added.

In conversation with Advocate Khawaja Haris, the CJP stated that he could not turn a blind eye towards out-of-turn promotion.

"How can we let the ones who were promoted in an unjust manner go without consequences? We have to provide justice," Nisar said.

SC orders removal of barriers outside Hamza's residence

Further admonishing the lawyer, the CJP noted that it had become common practice to kill people in police encounters to get promotions.

"We have to develop certain rules of engagement, even if it hinders police work," Nisar told the courtroom.

Further proceedings of the case have been postponed until Monday.