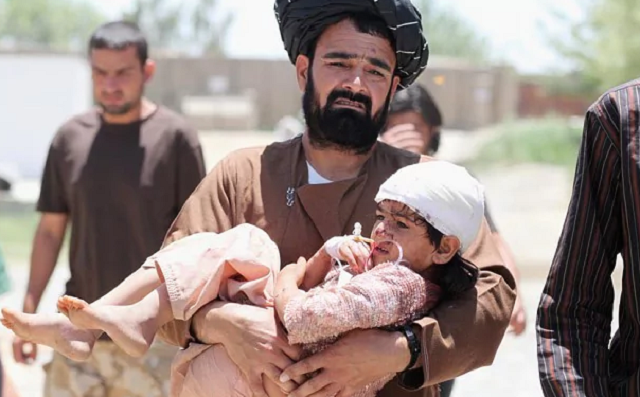 ---
KABUL: Nearly 2,300 civilians were killed or wounded in suicide bombings and attacks in Afghanistan in 2017, more than any previous year of the conflict on record, a UN report said Thursday.

The figures come as militants ramp up their assaults on urban areas following US President Donald Trump's announcement last August that the American presence in Afghanistan will remain open-ended, with Washington upping attacks on insurgents and deploying more troops and aircraft.

"The figures alone cannot capture the appalling human suffering inflicted on ordinary people, especially women and children," said Tadamichi Yamamoto, the UN envoy for Afghanistan.

Afghan civilians killed as US troops open fire after bomb attack: Afghan official

The United Nations Assistance Mission in Afghanistan (UNAMA) reported that civilian deaths across the country dipped by nine per cent in 2017, with 10,453 total civilian casualties including 3,438 deaths and 7,015 wounded.

But as militants come under pressure from more airstrikes and commando raids, they have increased their focus on urban centres. As a result, casualties from suicide bombings and attacks jumped by 17 per cent.

"2017 recorded the highest number of civilian casualties from suicide and complex attacks in a single year in Afghanistan," the report said, with 605 killed and 1,690 wounded from such incidents.

US air strike kills 13 civilians: Afghan officials

Indiscriminate assaults by Taliban and the Islamic State group in populated areas caused "the higest levels of civilian casualties," the study added, with a total of 1,831 people killed and wounded in Kabul in 2017 alone.

Things have not improved in 2018.

Since January 20, militants have stormed a luxury hotel, bombed a crowded street and raided a military compound in Kabul, killing more than 130 people.

The majority of the victims in 2017 were killed or wounded by anti-government insurgents, according to the report.

However pro-government forces, including international troops, were responsible for 20 percent of the civilian casualties - a seven percent increase from 2016.

Afghanistan mulls plan to arm 20,000 civilians to fight insurgents

The casualties by pro-government forces were mainly caused by an increase in aerial bombings by Afghan and foreign forces, the UNAMA said. The US is the only international force known to be carrying out airstrikes in Afghanistan.

More than 28,000 civilians have been killed and over 52,000 wounded in Afghanistan since 2009 when officials started documenting the casualties, according to the UN.