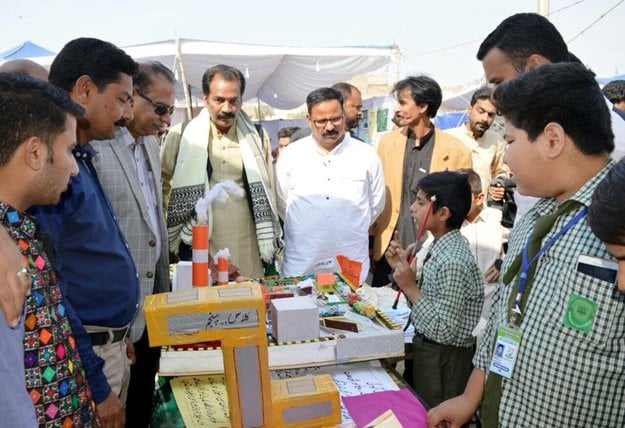 ---
HYDERABAD: Although science is considered a rarefied subject, Hyderabad's largest two-day science festival seemed to belie conventional wisdom. With multitudinous participation by students and citizens, the festival brought together students from the primary to university levels to exhibit their scientific projects.

The event, organised by the Muttahida Qaumi Movement (MQM) - Pakistan at Quaid-i-Millat Park on Autobahn Road in Latifabad, concluded Tuesday evening. As many as 70 scientific projects were put on display with students divided in four categories of primary, high school, college and university levels.

"The world now recognises nations through their contributions in the fields of science and research. Pakistan also needs to establish more science and research oriented institutes and the country's rulers should also take measures to promote interest in the subject of science among the students," said MPA Sabir Qaimkhani, who took the initiative of arranging the festival. The other three MPAs of MQM-Pakistan from Hyderabad district, Rashid Khilji, Zubair Ahmed Khan and Dilawar Qureshi, also collaborated to host the festival.

Qaimkhani said Hyderabad required a university where information technology was taught. "Students aspiring to pursue higher degrees in the field of IT deserve a high standard of higher education institution of IT in Hyderabad," he emphasised.






Projects

The idea of coal-based electricity production worries many people concerned with environmental degradation. However, two class nine students of Cadet College Petaro, Jamshoro built a model project which offered a solution by preventing carbon dioxide emission into the atmosphere.

"It's called carbon capture and storage. The technology offers the promise of trapping up to 90% carbon dioxide emission from power plants and industries," explained cadets Abdul Rasool and Harsama, adding that the gas collected from industrial units would be buried two or more kilometres deep in the earth through pipelines. "This process also helps in enhanced oil recovery from fossil fuels," they claimed.

Three students of the Institute of Information and Communication Technology (IICT), University of Sindh, came up with the idea of a smart blind stick which is equipped with ultrasonic sensors. The stick will sense and signal any barrier on the way from a distance of up to 40 centimeters or 16 inches. "A buzzer or a vibrator will inform the person carrying the stick where to stop or to change course," explained Rida, a BS electronics part II student who prepared the model with Niha and Khansa.




Another group of students from the IICT designed an elevator which would not fall to the ground by gravitational pull even if its cable was cut off. A group member, Uroosa, explained that their prototype had equipped a gear motor in the elevator which would slowly bring it down to the ground.

Some of the other projects included refrigerators and air conditioners that consumed less electricity, a car equipped with censors to prevent accidents, an earthquake resistant bridge, industrial robots powered by hybrid technology rather than diesel fuel, a smart industrial control system and electricity production by installing power generators on speed breakers.
COMMENTS
Comments are moderated and generally will be posted if they are on-topic and not abusive.
For more information, please see our Comments FAQ