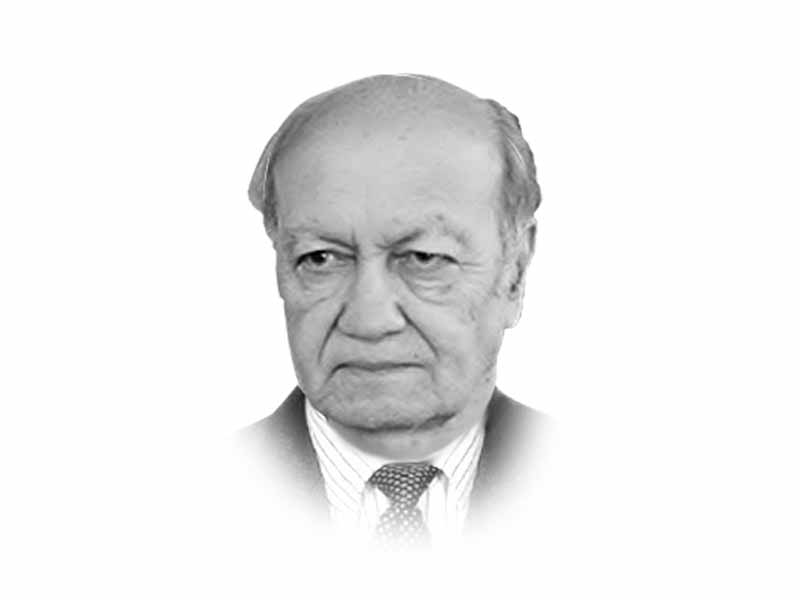 ---
Asma Jehangir was by far the most courageous and outstanding lawyer and human-rights activist that Pakistan has produced in recent times. It was her commitment to the supremacy of the Constitution and the rule of law that gave her exceptional inner strength. Not for once, would she hesitate to stand up to the strongest institutions in the country if she thought they were trespassing their constitutional boundaries or stifling the political process.

Asma stood fiercely for an independent judiciary, equality between men and women and political power derived from the will of the people. Until her last days, she was raising her voice against excessive judicial activism, realising that it has a long-term detrimental effect on balanced development of institutions. Similarly, she stood up valiantly against martial law and the military's expanding domain in civilian affairs. Asma took a courageous stand against General Zia's authoritarian policies and would not be dissuaded by facing the wrath of dictators. What gave her the strength to face these powerful institutions was the courage of conviction that in the ultimate analysis it is Pakistan's ability to succeed as a democratic nation that matters.

For the poor, she had a special affection. There would be few in the country that would show such deference and compassion to the poor as she would. Asma would defend legal cases of the downtrodden and champion their causes.

On a broader canvas she was equally zealous in promoting international causes of the oppressed. She was in the forefront of pleading the cause of Palestine, protesting against the US invasion of Iraq or speaking about the atrocities being committed against Rohingya Muslims. Her voice carried weight because it was for a selfless cause — for oppressed people and against the powerful.

As has become the norm there was far greater recognition of her abroad than at home. Recognising her talent and commitment to the wellbeing of children, she was appointed as the vice-chair of the Defence for Children International in 1986, an organisation that she served for two years. She cofounded the Human Rights Commission of Pakistan and in 1993 became its chairperson.

Asma never feared being imprisoned or being put under house arrest for pleading a just cause. She was arrested during the Movement for the Restoration of Democracy against General Zia's regime. If one would recall, she was a leading figure of the Lawyers' Movement and had the distinction of being the first women to be elected as the president of the Supreme Court Bar Association. And at the international level was the vice-president of the International Federation for Human Rights. As a friend I have witnessed from the sidelines her tenacity and power of persuasion while fighting for the Bar elections.

Her support for minority communities speaks volumes about her compassion for the neglected. She would defend minority Christians charged with blasphemy cases knowing full well that it would invite the wrath of certain religious groups.

When Asma was to receive France's highest and most prestigious civilian award, apparently in ranking close to a Nobel Prize for her decades of rights work the French ambassador held a small but impressive ceremony at her residence. Asma requested me to be the speaker at the ceremony after she had spoken. It was a great honour for me. I still remember her extempore speech that was outstanding in terms of the expanse and depth of her knowledge and issues related to human rights. It is therefore not surprising that few Pakistani activists have achieved the credibility, fame and respect of Asma.

She was close to Benazir Bhutto and enjoyed her confidence. But as I remember Asma would not hesitate for a moment to criticise her if she thought any of Benazir's policies or actions did not conform to her ideals and expectations. Asma has been equally forthright in giving advice to the present PML-N leadership. As an ardent supporter of democracy she has held the view that civilian governments be allowed to complete their tenure. This would however not prevent her from raising her voice against government's failings.

Asma maintained that human rights are the foundation of the state and also a critical factor in interstate relations. She firmly believed that a regime that grossly violates the rights of its own people could not remain peaceful or earn international respect. If Pakistan fails to comply with the human rights law and the international humanitarian law it will not be in a position to bring internal stability. In short, human rights were integral to the rule of law. She was an ardent promoter of good relations with neighbours, including India. Notwithstanding that she remained a forceful critic of human rights violations occurring in these countries.

Regrettably, Asma's relations with the establishment and especially the army leadership remained uneasy. It is understandable that her criticism of certain state policies both internal and external that had a major military input were not received well. However, this is not to say how much she valued the huge sacrifices the military and civil armed forces are making in the fight against terrorists organisations. Lately, she had been endorsing the idea of dialogue and better understanding between institutions. With her deep insight she was seeing how important it is that institutions face national challenges in a unified manner. The irony and sad aspect of Pakistan's challenges is that whereas every individual and each institution has a right to hold its views but these need to be restricted within the bounds of constitutionalism and the rule of law. Otherwise, as in the past, we will be pulling in different directions and undermining the potential of the state.

She was an excellent professional lawyer and never mixed politics while in courts. Asma's idealism and tireless efforts at addressing the challenges facing society hopefully will inspire people prone to cynicism. Her powerful legacy, which was an excellent blend of pragmatism, compassion for the poor and untiring efforts to uphold human rights, would remain a beacon for Pakistanis in the years ahead.

Published in The Express Tribune, February 14th, 2018.

Like Opinion & Editorial on Facebook, follow @ETOpEd on Twitter to receive all updates on all our daily pieces.