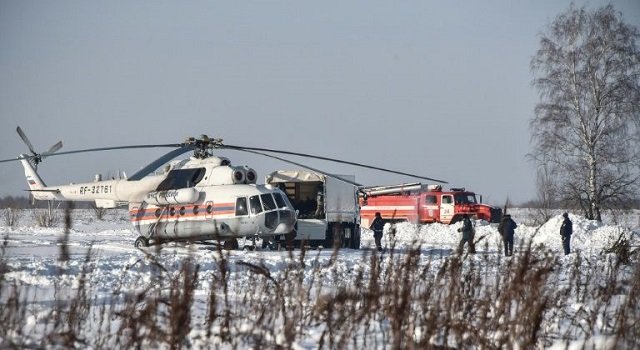 ---
STEPANOVSKOYE, RUSSIA: Investigators on Monday begun examining a black box containing flight data about the Russian passenger plane which crashed near Moscow minutes after take-off, killing all 71 people on board.

Rescuers searched through deep snow for body parts and debris following the disaster, the country's deadliest air crash since 2016.

71 dead, no survivors in Russian passenger plane crash

The Antonov An-148 plane went down in a snow-covered field, making it difficult to access, with emergency workers forced to reach the wreckage by foot or on snowmobiles.

Russia's Aviation Committee said the black box was recovered from the scene on Monday, adding that "some 400 pieces of the plane" have also been found.

The accident happened in Ramensky district around 70 kilometres (44 miles) southeast of Moscow on Sunday after the plane departed from Domodedovo airport outside the Russian capital and disappeared off the radar at 2:28 pm (1128 GMT).

Sixty-five passengers and six crew members were on board and all of them died, the Investigative Committee said.

Three victims were children, including a five-year-old girl.

The victims' remains were so damaged that genetic testing is required, investigators said.

The flight was operated by the domestic Saratov Airlines and was headed for the city of Orsk in the Orenburg region close to Russia's border with Kazakhstan.

On Monday, rescuers in dark uniforms trudged across the site in formation, using shovels to shift snow around 40 centimetres (16 inches) deep, an AFP video journalist saw.

The search, involving more than 1,000 people and 200 vehicles, could last "about a week", transport minister Maxime Sokolov said.

It was made difficult by the large wreckage site, spread over more than 30 hectares, heavy snow and difficult terrain.

President Vladimir Putin sent condolences and "is constantly receiving information" about the crash, his spokesman Dmitry Peskov said.

Putin - who is running for re-election in a March 18 poll - cancelled plans to travel to the Black Sea resort of Sochi to meet Palestinian leader Mahmud Abbas on Monday, and instead held the meeting in Moscow.

The Investigative Committee, which is probing the crash of the eight-year-old plane, said the aircraft caught fire on the ground after crashing.

"At the moment of falling, the aeroplane was intact, without a fire. An explosion took place after the plane crashed," it said, adding it is looking into various factors including the pilots' training and the plane's technical state.

The Ukrainian manufacturer of the plane, Antonov, said Monday it was ready to send its specialists to participate in the investigation.

Russia's Aviation Committee said Kiev had appointed a representative for the probe.

A Swiss citizen and a citizen of Azerbaijan were among the dead listed by the emergency services ministry. A Kazakh citizen may also have died, transport minister Maxim Sokolov said.

Other victims included the 22-year-old fiancee of a Russian professional hockey player and a 27-year-old singer from Orsk.

Vice Prime Minister Arkady Dvorkovich said the families of each victims will receive over 3.5 million rubles ($60,000) in compensation.

Witnesses said they heard a crash or felt an explosive force when the plane came down.

"When it hit the ground we heard a loud bang. We saw a large fiery ball rise up from the spot," said Tatiana Zhukova, a housewife living in the nearby village of Stepanovskoye.

"We thought it was a meteorite."

The plane was built in Ukraine in 2010 and bought by Saratov Airlines from another Russian airline a year ago, the carrier said.

It said it was suspending all flights using that model of plane.

Saratov Airlines was founded in the 1930s and flies to around 35 Russian cities. Its hub is the central airport of Saratov on the Volga river.

Pakistan should mend fences with Russia

The governor of the Orenburg region where the plane was heading and most passengers lived, declared Monday a day of mourning with flags lowered and entertainment events cancelled.

Russia has suffered numerous plane crashes, with airlines often operating ageing aircraft in dangerous flying conditions.

A light aircraft crashed in November in Russia's far east, killing six people on board.

In December 2016, a military plane carrying Russia's famed Red Army Choir crashed after taking off from Sochi, killing all 92 people on board.

Pilot error was blamed for that crash.

In March 2016, all 62 passengers died when a FlyDubai jet crashed in bad weather during an aborted landing at Rostov-on-Don airport.