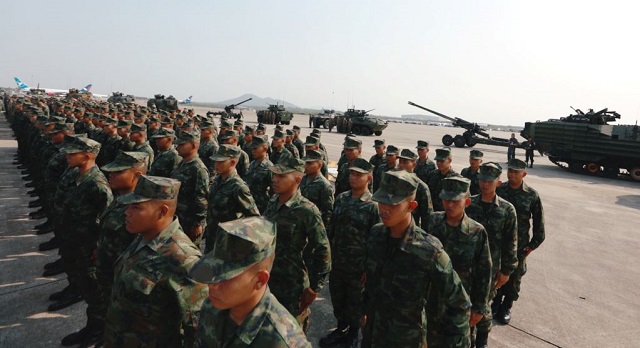 ---
BANGKOK: The biggest US force in years joined an annual military exercise in Thailand on Tuesday despite controversy over the Thai junta's invitation to neighboring Myanmar's army, which has been accused of ethnic cleansing.

The United States scaled back attendance at Cobra Gold, Asia's largest multilateral military exercise, after a 2014 coup in Thailand. But relations between the junta and the United States have improved under President Donald Trump.

The presence of the 6,800 US personnel - nearly double last year's number - was a demonstration of America's continuing muscle in a region where China is growing ever more powerful.

The Cobra Gold military exercise has been held for more than three decades. This year's Cobra Gold will be attended by some 11,075 personnel from 29 countries.

Thailand, China agree on $5 billion cost for rail project's first phase

"This exercise is the largest multilateral exercise in the Indo-Pacific region. It speaks to the commitment of the US in the region," Steve Castonguay, a spokesman for the US Embassy in Bangkok, told Reuters.

This year's exercise has been marked by Thailand's controversial invitation to Myanmar, where 700,000 Rohingya Muslims have fled military action that the United Nations has denounced as ethnic cleansing in response to insurgent attacks.

Castonguay confirmed an army major from Myanmar was attending the opening ceremony but that Myanmar would not participate in any military drills.

Pakistan, Saudi Arabia to begin military exercises 'Shahab 2'

The United States has pushed for the restoration of democracy in Thailand, its oldest regional ally.

Prime Minister Prayuth Chan-ocha had promised an election would take place in November this year, but the junta last month said it could be delayed until February 2019 - which would be the latest of several postponements.