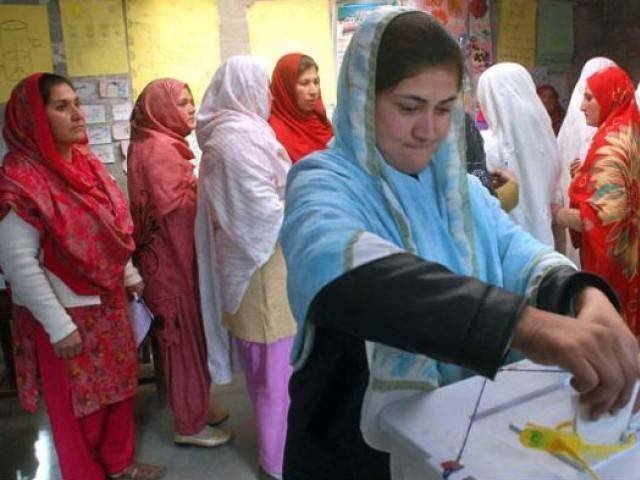 ---
PESHAWAR: Through greater participation in mainstream politics, women can influence legislation being passed by the house to devise laws which help protect their rights.

This was stated by speakers at a seminar held with respect to National Women's Day in Peshawar on Monday. The seminar had been organised by the non-governmental organisation (NGO) Blue Veins with assistance from the Australian government and Trócaire to highlight the role of women and factors contributing to great inequalities for women including gender-based violence (GBV), restricted mobility, lack of education, little awareness of rights, lack of access to and ownership of resources and assets, and limited access to social services.

Khyber-Pakhtunkhwa Commission on Status of Women (K-PCSW) Chairperson Neelam Toru said that they had been working to strengthen the status of women in Khyber-Pakhtunkhwa (K-P) by working towards pro-women laws.

"Change is incremental, and while there is a lot to be done when it comes to safeguarding the rights and lives of women, considerable progress has been made in passing pro-women legislation," Toru said.

"The increased participation of women in politics and public life will pave the way for more solid legislations which protect women's rights in the province completely," she concluded.

However, activists suggested that they need to do more in terms of help GBV survivors overcome problems

"The civil society has a responsibility to ensure the safety, wellbeing and rights of those at risk of GBV; regardless of whether high numbers of data exists or not," said activist and lawyer Rakhshanda Naz. "Many GBV cases are often overlooked and not reported which is a huge setback which is why any available data on GBV, including reports from police, legal, health, or other sources is helpful and can help civil society in identifying the gaps and finding better solutions," she said.

Women Parliamentary Caucus Vice Chairperson Amna Sardar , urged people to keep an open mind towards women legislators.

"While reserved seats have increased the presence of women in assemblies in Pakistan, women elected to these seats often serve as proxies for family members and are not allowed to play their role as public representatives, this trend should end now because the prominence of women in the parliament simply cannot be ignored anymore," Sardar implored.

District Councilor Rabia Basri said that while the establishment of local governments had provided a platform for citizens to be involved in the planning, execution and monitoring of public service delivery programmes, more needed to be done to end the inherent discrimination against women.

"In our everyday lives, we come across women who face discrimination on a daily basis by their counterparts at work or even in other walks of life. But now, these women have proper representation, and we make sure their problems are addressed and are solved by any means possible," Basri said.

Blue Veins programme coordinator Qamar Naseem said that women are a crucial part of our society who have been constantly overlooked and treated unfairly.

"There are various factors of violence against women and girls such as traditional gender roles, patriarchy, and attitudes which force women to be placed in difficult positions, women can play a positive role in the economic and social growth of the country if all the obstacles in their way can be addressed and eradicated," he said. 

Published in The Express Tribune, February 13th, 2018.