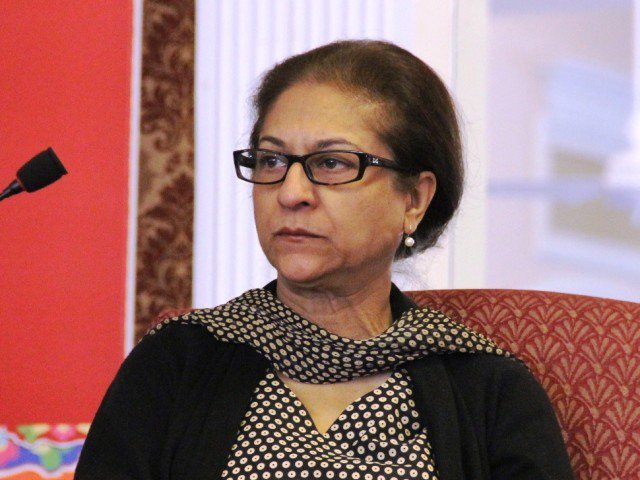 ---
I was at a tea shop in Karachi when I first found myself interested in the personality of the late Asma Jilani Jehangir, who passed away in Lahore at the age of 66. I overheard a few men discussing her. The conversationalists quite obviously did not hold Ms Jehangir in high regard, and yet felt compelled to speak of her as they had afternoon tea. I wasn't too interested in her before then, but hearing those people made me curious. Obviously there was more to this person. Far from being opinionated herself, she had made the nation opinionated.

The next time I heard about Asma was as a junior at the Lahore University of Management Sciences, this time as the moderator for a talk on human rights in Pakistan introduced her to a full-house. The moderator was all praises for her, introducing her as a champion of human rights and the rights of minorities in Pakistan, an advocate of justice.

As the microphone was passed to a silver-haired woman, one could detect an expression of anger, perhaps frustration, in her voice. She looked at the audience with steely, piercing eyes, eyes that spoke of anger, of struggle, of optimism and cynicism at once, of hope and of infinite determination.

"Weren't you afraid that the state would force you out of the country?," a member of the audience asked as she was discussing the Asma Jilani case where she had stood up for her father against the state of Pakistan.

"In ke baap ka mulk hai jo mujhay nikaal dayn gay? [is it their father's country that they should be able to force me out?]" was her response.

The Asma Jilani case, which has been taught in Pakistani law schools for decades as a landmark case of Pakistani constitutional law, get its name from Ms Asma herself.

In December 1971, the military government of Yahya Khan detained Asma Jahangir's father, Malik Ghulam Jilani. Without recourse to procedural help or basic legal rights, her father sent out a letter with possible grounds of his release to his home through a jail employee. A petition was then filed in the Lahore High Court for the release of Jilani by his then 18-year-old daughter Asma. Several months later, she won her father's freedom and rendered martial law unconstitutional at the Supreme Court.

A few years later I met her in court. By then I had been inspired to become a lawyer, being inspired in no small part by her. In a Supreme Court where men occupied the front benches almost without exception, lawyers clad in Italian suits with egos each bigger than the other used to leave their seats, as a crowd of men dressed in black suits made way for a by now timeworn figure of an old woman, as she greeted everyone around her with kindness, stopping to shake the hands of towering men bowing slightly, not to reach her hand, but to show respect.




When it was election season in the Supreme Court, there was a frenzy of campaigning for the Supreme Court Bar Association (SCBA) election. As a young lawyer, I asked my seniors what the deal with the elections was; often they said the elections were a foregone conclusion, the Asma Jahangir camp would win. Having already served as the first and only female president of the SCBA, she had now resolved to act essentially as kingmaker by forming an informal party of sorts where candidates strived for her support. In a country as patriarchal as Pakistan, and in a profession as dominated by men as the legal fraternity, at the very top of it all, the kingmaker, was a woman.

My encounter with her had begun over tea. The last time I met her I had the honour of having a short conversation with her at the Supreme Court over tea. "Chai nahi pilao gay? [Will you not offer me tea?]" she had said with a smirk as she entered the office.

I had so many questions, but I was too intimidated to ask any of them, questions of her struggles, of her inspirations, of her weaknesses that no one could find, of her unbound courage. I saw a tired and weak face with fractures all across it, reminiscent perhaps of a hard life. But amongst the cracks that threatened to betray her and inform us of her weaknesses, and beyond the heavy tortoiseshell spectacles, were the same determined eyes of steely resolve, the same steely resolve with which she proceeded to inform me of my responsibilities towards Pakistan. She told me how as a lawyer I had a special responsibility, a particularly heavy one, to people around me, those disenfranchised and those more unfortunate. She told me not to expect an easy ride, and to always have the courage to stand up for what is right, no matter the odds.

Coming from anyone else, this would have been a stereotypical pep-talk. But when it came from the champion that was Asma Jilani Jehangir, it was the findings of an exemplary and brave life, her life.

I was a world apart, when I heard that she had passed away. And as a man that had now been tweaked to the realities of realpolitik, the realities of life and the cynical nature of ideals, my heart broke when I heard the news. I can say with confidence, that having followed her, and idolised her, I became a better man, I became a feminist, a lawyer, a believer in human rights and perhaps even more importantly a little braver, a little more idealistic, a little more confident about the truth, and a little less cynical. In a country where women are rarely allowed the freedom to be exceptional, and so where every great person had to be a man, as a young boy, I had found myself wanting to grow up to be like this woman.

What was Asma Jahangir's real achievement was that she inspired not a few kids, but a whole nation. Often, when poor and innocent victims of a faulty justice system found themselves without hope, she would bring their cases to the fore of the Pakistani psyche from the oblivion of hopelessness and darkness. It's not that she was universally adored. Asma Jahangir was a divisive personality, when most thought of her as stubborn, those minorities and women who found her as their only voice, found her to be steadfast. When most accused her of acting for foreign agencies and lobbies, those who were only sentenced because they couldn't afford legal fees, found her winning their freedom for them pro bono.

Without her, the world is poorer, and Pakistan especially is poorer. It has lost a truly unique woman, a leader for many, an icon for the young, a street-fighter for the more unfortunate, a role model for aspiring feminists, Pakistan is poorer today, with the loss of its iron lady. Rest in Power, Asma Jilani Jehangir.

Published in The Express Tribune, February 13th, 2018.

Like Opinion & Editorial on Facebook, follow @ETOpEd on Twitter to receive all updates on all our daily pieces.