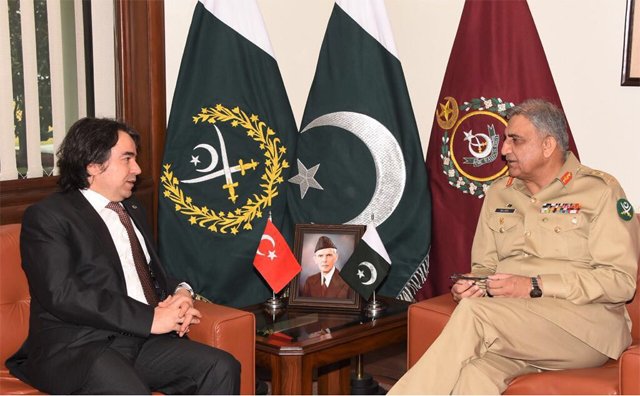 ---
RAWALPINDI: Iranian Ambassador to Pakistan, Mehdi Honardoost on Monday called on Chief of Army Staff (COAS), General Qamar Javed Bajwa at General Headquarters (GHQ).

According to a statement issued here by Inter-Services Public Relations (ISPR), during the meeting matters of mutual interest and Pak-Iran border management were discussed.

Both the countries had agreed upon several measures to improve border control and security when the army chief visited in Iran last year.

The army chief had met Iranian Defence Minister Brigadier General Amir Hatami and Commander-in-Chief of the Islamic Revolutionary Guard Corps (IRGC), Major General Mohammad Ali Jafari during his official visit.

"Both sides agreed to ensure that their soil is not used by any third party against any of the two countries. Steps like establishment of hotline communication between the field commanders along Pak-Iran border, fencing by Iran on its side of the border, coordinated border patrolling, intelligence sharing and more frequent interactions were agreed upon," a statement issued by the ISPR had said.

Three injured in LoC firing

Border security has been a major concern for both sides.

Iran had suffered several cross-border attacks in which a number of its guards have been killed. The last major attack happened in April 2017, in which 11 of the guards were killed.

The army had, after the attack in April, decided to deploy additional forces along the border to prevent recurrence of such strikes.

Separately, newly appointed Turkish Ambassador to Pakistan, Ishan MustafaYurdakul called on the army chief.

Matters of mutual interests -- including regional security issues --were discussed during the meeting, the ISPR said.

The two noted the exceptional mutual relations between the brotherly nations and pledged to further improve these.

The visiting dignitary also acknowledged and appreciated Pakistan army's contributions for peace and stability in the region.