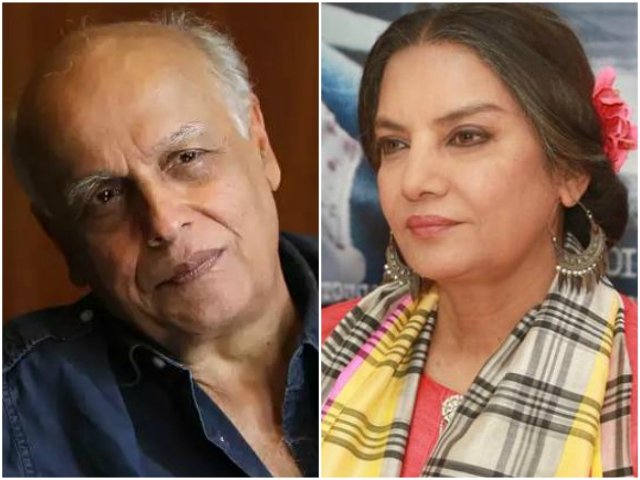 ---
Lawyer and human rights activist Asma Jahangir died on Sunday after suffering cardiac arrest. She was 66. Her funeral will be held at Gaddafi Stadium on Tuesday. Born to bureaucrat Malik Ghulam Jilani and Sabiha Jilani in Lahore on January 27, 1952, Jahangir was best known for her pro-democratic and human rights activism.

While she was surely a big name in Pakistan, people across the border also lauded her for speaking up on rights of women and minorities. With her sad demise, many Bollywood celebrities expressed their sentiments on losing Jahangir.

Shabana Azmi said that she was friends with the late activist.


Just heard the devastating news that #Asma Jehangir passed away.She was a friend for who's values integrity and courage I have the deepest respect. Pakistan has lost its most fearless crusader and the human rights movement its tallest leader. Our deepest condolences to the family

— Azmi Shabana (@AzmiShabana) February 11, 2018
RIP #Asma Jehangir. Devastated by your loss. pic.twitter.com/O11bppILpx

— Azmi Shabana (@AzmiShabana) February 11, 2018


Husband Javed Akhtar was quick to follow suit and said that Jahangir's loss effects the entire subcontinent.


Asma Jahangir , undoubtedly the bravest and the most resilient fighter for human rights who had the courage to face the wrath of the dictators and the fury of the fundamentalist Mulla has passed away . It is the loss of the whole Sub continent .

— Javed Akhtar (@Javedakhtarjadu) February 11, 2018


Film-maker Nandita Das also shared a photo of her and Jahangir.


Deeply shocked & saddened to hear of #AsmaJahangir. She was a true defender of #HumanRights #Democracy & fought till her last breath against authoritarian power, orthodoxy & discriminatn. She was & will remain an inspiration A huge loss. Condolences to all whose lives she touched pic.twitter.com/FtR6HnFbIf

— Nandita Das (@nanditadas) February 11, 2018


Mahesh Bhatt also penned his thoughts.


An extraordinary woman who fought for ordinary people. Asmaji had the audacity and the courage to fight for a fairer world. Thank you for touching our lives. 🙏🙏🙏 pic.twitter.com/wML94XmtcI

— Mahesh Bhatt (@MaheshNBhatt) February 11, 2018
Tamanna dard e dil ki ho tau kar khidmat faqeeron ki
Nahin milta ye gohar baadshahon ke khazeenon mein - Iqbal
Goodbye Asmaji ! Gratitude !!!! pic.twitter.com/Chjiudo605

— Mahesh Bhatt (@MaheshNBhatt) February 12, 2018


Singer-actor Sophie Choudry also expressed her condolences.


A champion of human rights, fearless in her pursuit of democracy & freedom from oppression.. Such a huge loss for Pakistan & the many women she inspired from all walks of life!! RIP #AsmaJahangir 🙏🏼

— Sophie C (@Sophie_Choudry) February 11, 2018


Local personalities were also deeply saddened by her passing away.


Am saddened by the demise of 2 important Pakistani icons , #AsmaJahangir and #QaziWajid.May their souls rest in peace!

— Shoaib Akhtar (@shoaib100mph) February 11, 2018
Rest in power, you brave soul! #AsmaJahangir ❤️

— MAWRA HUSSAIN (@MawraHocane) February 11, 2018
Sad sad day for Pakistan.. we say goodbye to a great great artist and a fearless activist. They shall live on through their work, always. #QaziWajid #AsmaJahangir pic.twitter.com/RLWZzR7aK2

— Mahira Khan (@TheMahiraKhan) February 11, 2018
Shocking to hear about the passing of this brave woman. Her honesty and sincerity to her cause remains an inspiration for our generation. Was always so full of life. We will miss you ma'am. @Asma_Jahangir pic.twitter.com/gGqEJuAexv

— Ali Zafar (@AliZafarsays) February 11, 2018
SADDEST DAY
Shocked and deeply saddened to hear of human rights activist #AsmaJahangir's and renowned television artist #QaziWajid Sahab's sudden death. May they both rest in eternal peace. Ameen.
They both have done so much for Pakistan. Pakistan loves you too.

— Rabia Butt (@Iamrabiabutt) February 11, 2018
Rest in Power! 💔 #AsmaJahangir pic.twitter.com/o2BikYEgDs

— Muniba Mazari (@muniba_mazari) February 11, 2018
Deeply saddened over the loss of two distinguished personalities of my country today. Human rights activist,... https://t.co/enxjibf09m

— Faysal Quraishi (@faysalquraishi) February 11, 2018
Asma Jahangir Inna lillahi wa inna ilayhi raji'un

— HUMAIMA MALICK (@HumaimaMalick) February 11, 2018


https://twitter.com/ArmeenaRK/status/962742551148204032


It's a sad day today. We have lost two icons. May their souls rest in peace pic.twitter.com/CQcl6evQSe

— Humayun Saeed (@iamhumayunsaeed) February 11, 2018


Jahangir held a prominent position as a lawyer, and worked especially for the rights of women and minorities in Pakistan. She was appointed the United Nations Rapporteur for Human Rights in Iran on September 30, 2016 and held the position till her death. The nation is deeply saddened by her loss.

Have something to add to the story? Share in the comments below.