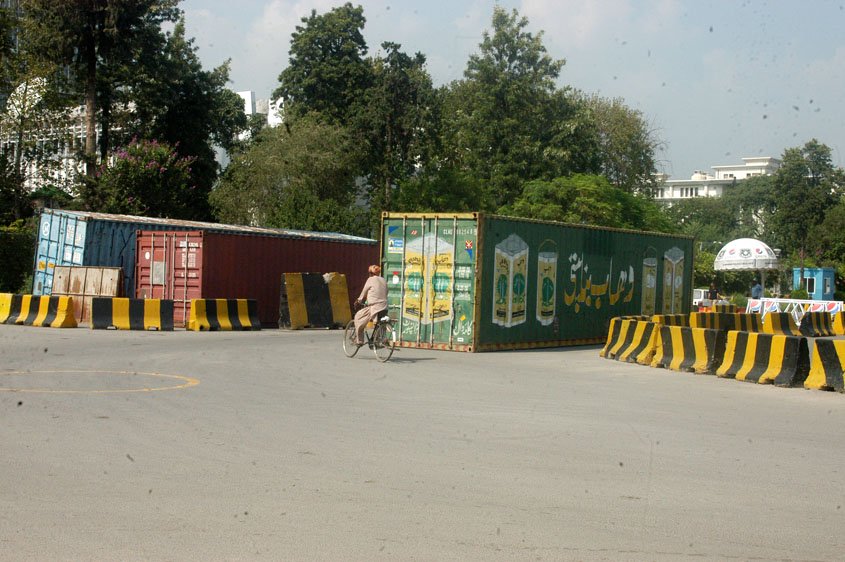 ---
LAHORE: Citizens have appreciated the decision of the Supreme Court of Pakistan to remove barriers and blockades outside different buildings from at least 26 points in the city.

They were of the view that these blockades caused a lot of public nuisance and also led to traffic jams in the city.

The important points where the barriers were ordered to be removed included Jati Umra, the residence of the Sharif Family, model residence of Mian Shahbaz Sharif, Minhajul Quran, Governor House, Central Police Office (IG Office), Aiwan-e-Adal, Jamia Qadsia, residence of Hafiz Saeed, DIG Operations Office, Qila Gujjar Singh Police Lines and other points.

The authorities had told the court that the barriers were placed outside most of the places which came in the crosshairs of terrorist activity. The court had told them to make their force vigilant.

The step had been appreciated by public at large, while apprehensions were expressed over the order by some officers of different departments, considering the law and order situation of the country.

Umar Khan, a resident of Model Town, told The Express Tribune that he had to travel a huge distance to reach his home, especially at night, due to the security arrangements outside Model Town residence of Sharif brothers.

At night time, the security of Model Town ensured that adjacent streets remained closed. Only main points were open for citizens to travel. This forced locals to exist in a hostage-like situation and they largely appreciated the decision of the court.

Ali Akhtar lived in Old Anarkali. With a hint of nostalgia in his tone, he says that he lived on the backside of the IG office. Ten years ago he and his friends would roam the streets around the IG Office with ease. No one would stop them and there was no sense of fear prevalent. He recalled that the walls of the IG office were only as high as people's knees.

Now it has become a no-go area for residents. The residents were living in a state of paranoia as tight security arrangements were made outside the IG office and roads around it were blocked. The blockade also caused massive traffic jam in the locality. Incidents of exchange of harsh words and scuffles had also been reported between residents and security officials. He was another one to appreciate the latest step to ease the movement of area residents.

Similar views were expressed by commuters who had to use Lower Mall, which is front of Aiwan-e-Iqbal, on a routine basis.

As far as the other side of the story was concerned, security apprehensions existed as such buildings had been targeted by terrorists.

The tragedy of Model Town, in which 14 lives were lost and many including women and children were injured, was sparked after a deadlock between the Punjab Government and Pakistan Awami Tehreek (PAT).

PAT refused to remove the barriers, saying that they were facing serious threats due to a fatwa issued by their leader Allama Tahir-ul-Qadri against terrorism. The menace of terrorism has been plaguing the provincial capital for many years. Around a decade ago, a suicide bomber blew himself up during a protest at GPO Chowk.

A terrorist attack outside Qila Gujjar Singh Police Lines had also occurred in 2014. Also, slain Governor Salman Taseer was shot dead by his guard and his son was also abducted.

Published in The Express Tribune, February 12th, 2018.
COMMENTS
Comments are moderated and generally will be posted if they are on-topic and not abusive.
For more information, please see our Comments FAQ