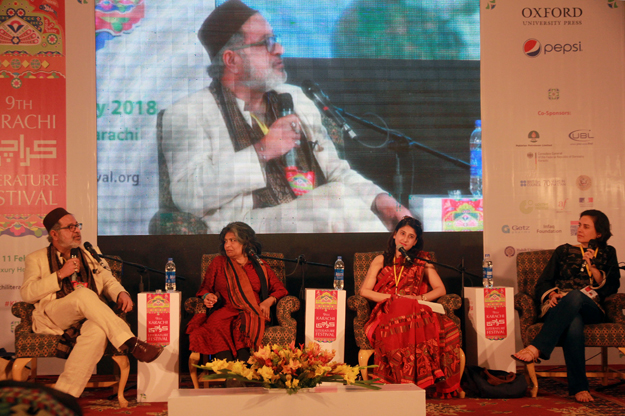 ---
KARACHI: The people of Pakistan and India are still experiencing the Partition of the Subcontinent as it is a part of their attitudes, worldviews and collective memory.

This was said by the author of 'The Footprints of Partition: Narratives of Four Generations of Pakistanis and Indians', Anam Zakaria at a session 'The Flames of Separation' on the last day of the ninth Karachi Literature Festival on Sunday. Novelist Kamila Shamsie moderated the session which featured Zakaria, Indian journalist Sheela Reddy and academic from Habib University Dr Nauman Naqvi.

Conversing with Shamsie, Zakaria said she started receiving experiences of Partition in her childhood through her grandmother, who would tell her stories of trains filled with corpses coming from Amritsar to Pakistan. She pointed out that the narrative developed in Pakistan about Partition ignored the violence committed by Muslims in the riots that occurred in 1947.

Remembering Intizar Husain who always grieved the great divide

Commenting on her book on stories of four generations after Partition, Zakaria said that while working on the book, she found out that Pakistanis and Indians who actually witnessed the events of Partition, including massacres, had a softer attitude for the other side. Despite having seen bloodshed, many of them wanted to go back to see the places they had lived in before Partition, Zakaria said, adding that the attitude of generations that followed was generally harsher as they endorsed their state's narrative.

Zakaria narrated an incident from when she took part in a student exchange programme between Pakistan and India. One of the students who was to go to India was denied permission by their mother as the student's grandfather had to flee Hoshiarpur during the riots and migrate to Pakistan during Partition. The mother was frightened by the ordeal her father faced. However, a few days later, interestingly, the student's grandfather himself intervened and allowed the student to go study in India.

Reddy, who hails from Hyderabad Deccan, commented that Partition was not a subject she heard her elders discussing during her childhood. She spoke of her childhood memories of the Razakars movement, which was started for the independence of Hyderabad state, and the communist movement.

The first image I formed of the Pakistan-India border was quite romantic, Reddy said. Her Hindi teacher had once told her that the two countries' guards at the border used to exchange lunch boxes.

Reddy's book 'Mr and Mrs Jinnah: Hindustan ki Hairankun Shadi', which was launched at the festival a day earlier, was also brought into the discussion. When asked what prompted her to research the marital life of Quaid-i-Azam Muhammad Ali Jinnah, Reddy replied that Jinnah continued to dominate discourse in India and one could not ignore him. "He is as inescapable as Gandhi," Reddy said.

From history to her story

Dr Naqvi also recalled his childhood days when his family members would talk about the dire circumstances under which they had to flee from the Delhi and Faridabad areas at the time of Partition. The academic mentioned that he grew up with the identity that he belonged to a family that had migrated from Hindustan.

Partition was a historically significant phenomenon, Dr Naqvi said, adding that 16 million people were displaced during Partition and there is no estimate of how many were killed. According to the scholar, the wounds of Partition had been exacerbating with time. He said both Pakistan and India had created versions of the past which best suited their agendas. He expressed his pessimism regarding the prospects of friendly relationship between the two countries, stating that his hopes had been diminishing since the election of the current Indian government.
COMMENTS
Comments are moderated and generally will be posted if they are on-topic and not abusive.
For more information, please see our Comments FAQ