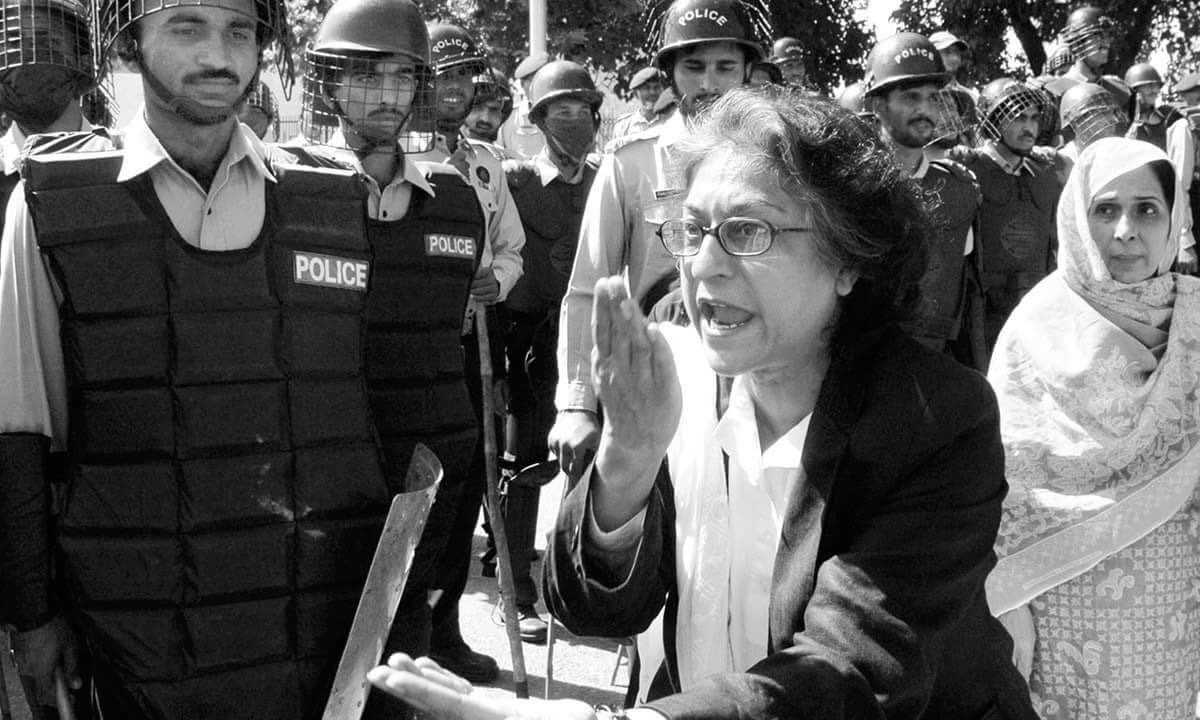 ---
KARACHI: Condolences pour in from all around Pakistan as the shocking news of Asma Jahangir's death was confirmed. She was a prominent human rights lawyer and the former president of the Supreme Court Bar Association of Pakistan.




Prime Minister Shahid Khaqan Abbasi has expressed grief and sorrow over the demise of the renowned lawyer.

The PM lauded her immense contributions towards upholding rule of law, democracy and safeguarding human rights. He termed her demise as a great loss for the legal fraternity and has prayed for eternal peace of the departed soul and for the courage of the bereaved family to bear this irreparable loss with fortitude.

Chief Justice of Pakistan, Mian Saqib Nisar, other Honourable Judges and Registrar even expressed deep sorrow and grief on the sad demise of the Asma Jahangir.

Heart of gold: The Asma Jahangir few knew

Honourable Chief Justice and Honourable Judges praised her services rendered for the cause of independence of the judiciary, rule of law and supremacy of Constitution in the country and said that her services will always be remembered in good words in the judicial history of Pakistan.

She was an outspoken and courageous lady, and had risen to prominence by sheer dint of hard work, diligence and commitment to the legal profession.

They prayed to Almighty Allah to shower His blessings upon the departed soul and to give patience to the bereaved family members to bear this irreparable loss with equanimity.

President Mamnoon Hussain

The president expressed condolences over the demise of the renowned lawyer, Asma Jahangir and recognized her for the supremacy of law and consolidation of democracy.

PPP parliamentarian president, Asif Ali Zardari

Mr. Zardari stated deep grief and sorrow over the passing of the famous lawyer and human rights Activist, Asma Jahangir. He said her death is an irreplaceable loss to the country. He further added Ms. Jahangir was a brave woman who struggled for restoration of democracy and constitution who always confronted dictatorship.

Chief Election Commissioner Justice (r) Sardar Muhammad Raza

CEC Raza has expressed deep condolences over the demise of Human Rights activist and renowned lawyer Asma Jahangir. He has termed her death a national tragedy and said Pakistan lost a brave and fearless woman.

Leader of Opposition National Assembly Syed Khursheed Ahmed Shah

The National Assembly Leader expressed condolences as well as offered obituary prayers for the deceased. He said her services for law and human rights will be remembered for a long time.

Speaker National Assembly Sardar Ayaz Sadiq and Deputy Speaker Murtuza Jawed Abbasi

Mr. Sadiq and Mr. Abbasi conveyed deep sadness over the sudden demise of the former Supreme Court Bar President and law expert, Asma Jahangir.

CM Sindh requests state funeral for Asma Jahangir
Sheema Kirmani paid tribute to the civil rights activist during a session at the ninth Karachi Literature Festival happening in Karachi. She performed a poem by legendary poet Faiz Ahmed Faiz.

The Pakistan Bar Council (PBC) has announced three days of mourning.

Vice Chairman Kamran Murtaza and Chairman Executive Committee Mr. Ghulam Shabbir Shar, of PBC expressed their deepest condolences and grief on the demise of Ms. Asma Jahangir, former president of the Supreme Court Bar Association.

They have called the members of the legal fraternity to observe three days of mourning from February 12-14. Lawyers all over Pakistan will not appear in court on these dates.






Veteran journalists and politicians along with media personalities and the general public expressed sadness over her sudden death.


Heartbroken that we lost Asma Jahangir - a saviour of democracy and human rights.

I met her a week ago in Oxford. I cannot believe she is no more among us. The best tribute to her is to continue her fight for human rights and democracy. pic.twitter.com/Tf7VOYfvq5

— Malala (@Malala) February 11, 2018
With Asma Jahangir Sahiba's passing away a very strong voice for the weak in our society has gone silent. Her death is a blow to human rights and democracy in our country. May she rest in peace.

— Miftah Ismail (@MiftahIsmail) February 11, 2018
Shocked & deeply saddened to hear of Asma Jehangir's sudden death. It is an irreparable loss. May she rest in eternal peace. Ameen.

— Maryam Nawaz Sharif (@MaryamNSharif) February 11, 2018
چیئرمین تحریک انصاف کا عاصمہ جہانگیر کے انتقال پر گہرے رنج کا اظہار

پاکستان میں جمہوریت کے استحکام اور قانون کی حکمرانی کیلئے انکی کاوشوں کا اعتراف
-@ImranKhanPTI

— PTI (@PTIofficial) February 11, 2018
إِنَّا لِلّهِ وَإِنَّـا إِلَيْهِ رَاجِعونَ

Deeply saddened by the news of sudden demise of renowned lawyer and human rights activist Asma Jahangir sahiba. Pakistan has lost a passionate champion of human rights and a staunch supporter of democracy. May her soul rest in peace!

— Shehbaz Sharif (@CMShehbaz) February 11, 2018
.@asma_jahangir What a brave woman.Pakistan poorer without her.People like Asma are anchors of a society.The brave and dedicated daughter of a brave father.After 3 generations of camaraderie between our families,this is a deep personal loss.God bless her soul

— Khawaja M. Asif (@KhawajaMAsif) February 11, 2018
Shocked, saddened and heartbroken to have Asma Jehangir leave us. She played such a huge role in my life, both personal and political. Was a guiding light for women and vulnerable people. Pakistan will not be the same without her. I know I won't. 💔RIPAsma 💔

— SenatorSherryRehman (@sherryrehman) February 11, 2018
Prominent Lawyer and Human Rights Activist @Asma_Jahangir has passed away pic.twitter.com/p6YqE8syTz

— Mansoor Ali Khan (@_Mansoor_Ali) February 11, 2018
Shocked to hear @Asma_Jahangir passed away. Huge loss for us, for #Pakistan. She was courageous, fearless, invincible. In absolute disbelief. Please pray for her & her family.

— Bakhtawar B-Zardari (@BakhtawarBZ) February 11, 2018
Pakistan lost an icon today. #AsmaJahangir 💔

— Majid Agha (@Majid_Agha) February 11, 2018
RIP Asma Jahangir. The Subcontinent's bravest and most "incorrigible" liberal. No one touched by her came without her touch of kindness. Both Pakistan and India are poorer today. pic.twitter.com/IEL3rXbjcS

— Shekhar Gupta (@ShekharGupta) February 11, 2018
We lost a strong voice of Pakistan, a human rights activist , a person who struggled till her last breath @Asma_Jahangir
May Allah SWT bless his mercy & forgiveness and rest the departed soul in eternal peace (Ameen) pic.twitter.com/v0eUdVn1Uv

— Senator Sehar Kamran T.I. (@SeharKamran) February 11, 2018
Shocked and saddened to hear Asima Jahangir passed away. Unable to believe she is no more. Her passing is a big loss to Pakistan. I did not see such a courageous lady like Asma Jahangir pic.twitter.com/qctcQz1MFd

— Hina Parvez Butt (@hinaparvezbutt) February 11, 2018
إِنَّا لِلّهِ وَإِنَّـا إِلَيْهِ رَاجِعونَ

Dr #IshratUlEbad Khan has expressed deep giref over the sad demise of #AsmaJahangir due to cardiac arrest.

He prayed for eternal peace of departed soul and grant of courage to bereaved family to bear this loss. pic.twitter.com/NVENbl47wi

— Dr Ishrat Ul Ebad (@drishratulebad) February 11, 2018
A very Sad Day for Pakistan. #QaziWajid and #AsmaJahangir is no more with us. May Allah rest their souls in peace. Ameen.... Sad Sunday 😢 pic.twitter.com/lrTIQopdrk

— VEENA MALIK (@iVeenaKhan) February 11, 2018
Rest in Power! 💔 #AsmaJahangir pic.twitter.com/o2BikYEgDs

— Muniba Mazari (@muniba_mazari) February 11, 2018
Huge, huge loss for Pakistan, not only she was a brave lawyer and activist but a co-founder of Human rights commission of Pakistan, fearless fighter, human rights defender left us today #AsmaJahangir #RIP

— Dr. Nazia Memon (@NaziaMemon01) February 11, 2018
Asma Jehangir is the most deserving national hero to be honoured with State funeral https://t.co/YuXZGqcgjr

— Ziauddin Yousafzai (@ZiauddinY) February 11, 2018
She was the best of us. This country needed her, and she kept answering the call, every time, come hell, high water, patriarchy, dirty politics or anything else they threw at her. Rest in Power, Asma Jehangir. I honestly don't know what we will do without you.

— Asad Hashim (@AsadHashim) February 11, 2018
No words for this amazing, dynamic human rights champion, a great loss for us , a great loss for Pakistan.. #Asmajehangir

— Sharmila Sahibah faruqui S.I (@sharmilafaruqi) February 11, 2018


https://twitter.com/RealM_Zubair/status/962630703627358208


The world esp South Asia loses one of its most powerful voices for human rights https://t.co/dH9J2fueyt

— Suhasini Haidar (@suhasinih) February 11, 2018
Rights activist and an inspiration to so many of us, #AsmaJahangir's death brings the end to an era. She dared to stand alone in the face of oppression. RIP pic.twitter.com/uS3j2xZuVf

— Naila Inayat (@nailainayat) February 11, 2018
COMMENTS (6)
Comments are moderated and generally will be posted if they are on-topic and not abusive.
For more information, please see our Comments FAQ