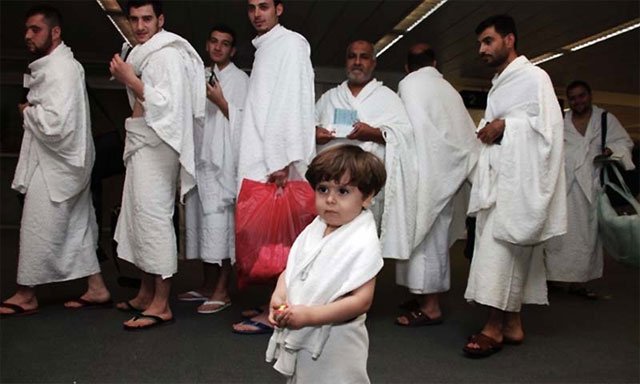 ---
This year, Riyadh has allowed Islamabad to implement the last year's agreement of enhancing hajj quota, which will enable a total of 184,210 Pakistanis to perform the pilgrimage this year. The previously announced quote was 179,210 people.

Talking to The Express Tribune on Saturday, an official privy to the development said last year just few days before the hajj day, Saudi Arabia had agreed to enhance quota for Pakistan and to add an additional 5,000 pilgrims to the list of pilgrims.

Hajj quota for Pakistan stays put

"The demand was entertained after Islamabad made several requests. At that time, however, it was not possible for the Ministry of Religious Affairs to make arrangement for the additional pilgrims. Therefore, the agreement remained unimplemented last year," he said.

He said Minister for Religious Affairs Sardar Muhamad Yousaf, who went to Saudi Arabia last week to discuss and ink several MoUs related to pre-hajj arrangements, had requested the Saudi government to allow Pakistan to execute the last year's agreement this year.

"Therefore, Saudi Arabia has allowed Pakistan to send an additional 5,000 pilgrims this year," he said, adding that the ministry had decided to distribute the quota among private tour operators.

"This enhanced hajj quota is just for this year, however. The prime minister of Pakistan has already sent a request to Saudi Arabia for increasing the hajj quota for Pakistan according to an increase in its population based on the results of new census," said the official.

He said that according to Saudi Arabia's mechanism for enhancing quota for any country, Pakistan requires an increase of 22,000 to 25,000 Pakistani pilgrims in its existing hajj quota. "This year the Saudis have turned down this request due to shortage of space at Mina," he added.

Ministry of religious affairs postpones Hajj balloting

He said Saudi Arabia had assured Islamabad that it would enhance Pakistan's hajj quota according to its population, once the expansion work at Mina completed.

Talking about the balloting of hajj applications under the government scheme which was stopped by the Sindh High Court and the Lahore High Court, the official said that on the ministry's request, the apex court had agreed to combine the various cases regarding the 2018 hajj policy and would conduct hearing on them on February 14.

"Once the Supreme Court gives its final ruling on such cases, balloting process will be carried out accordingly," he said.
COMMENTS (1)
Comments are moderated and generally will be posted if they are on-topic and not abusive.
For more information, please see our Comments FAQ