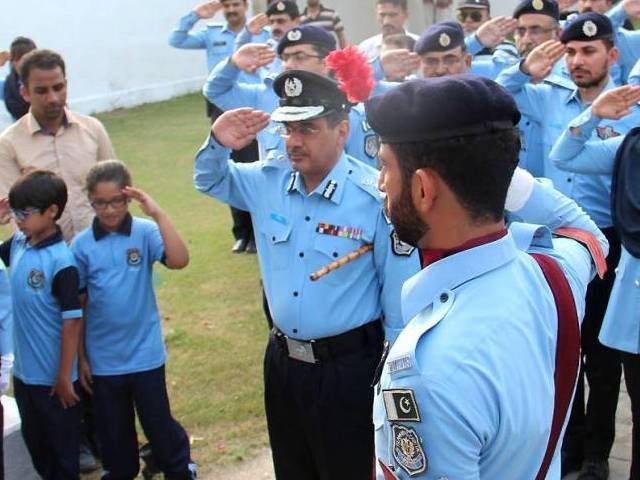 ---
ISLAMABAD: Keeping in line with the vision of IGP Islamabad Dr Sultan Azam Temuri Human Right Officers (HROs) of Islamabad Police stations have started their community engaging activities in their respective areas to bridge the gap between police and public, a police spokesman said on Saturday.

He said that these activities include free medical camps, visits to schools to create awareness and to hold community gatherings, to maintain close liaison with notables of their area and eradicate activities of anti-social elements with their cooperation.

Under the community policing initiative, a medical camp was arranged by the human rights officer of police station Shalimar in which multiple services were offered to the residents living in the jurisdiction.

The facilities included checking blood pressure, heart rate, provision of general medicines, blood tests, availability of general physician for check-up and facility of eyes check-up.

More than 200 members of the community showed up for various tests and expressed their deep appreciation for this community friendly initiative. Majority of the police officers of Shalimar police station also got checked up. The volunteering team of doctors also lauded the step and affirmed their support for similar future endeavours

Meanwhile a meeting was held with the members of neighborhood committee of PS Shahzad town and discussed with them the significance of community policy for the eradication of crime and to facilitate the public for the resolution of their issues at the earliest possible time.

The members lauded this policy initiated by the high ups and showed keen interest to promote police public relations in this regard.

A community policing walk was also organised under the supervision of SDPO Karachi Company. The march was led by Pakistani flag and ICT flag bearers

The march started from police station after passing through Qaddifi  Chowk, inside Sector G-9 Markaz and back.

Refreshments were served to participants at the end of the march.

IGP Islamabad Sultan Azam Temuri has appreciated these  activities by HROs overall and said that Islamabad Police is determined to ensure protection of lives and property of the citizens and also fulfilling the social responsibilities by contributing in the various welfare works.

"For the assistance in the community welfare programmes  Islamabad police would never step back and lead from the front for such gestures beneficial for humanity," the IGP maintained.

He said Islamabad Police is the role model for other law enforcement agencies and every personnel of this force would endeavour for community policing

IGP Islamabad hoped that their appointment would help improving the efficiency of capital police and make it more people-friendly with focus on protection of human rights.

'Walk a Cause'

Ministry for narcotics control, organised a walk in collaboration with National Highways & Motorway Police Islamabad Traffic Police and Anti Narcotics Force in Islamabad this morning. Minister for Narcotics Control Lt. Gen.(retd) Salahuddin Tirmizi, along with secretary Iqbal Mehmood and DG ANF  Maj Gen.Musarrat DG ANF participated in the walk.

The walk started off from Faisal Masjid, with participation from all walks of life, including schools, civil society organisations, judiciary, celebrities and general public.

Addressing the media, minister states that recent survey revealed that more than 6.7 million people are drug addicts in Pakistan.

Ministry in collaboration with ANF has left no stone unturned to reduce this number. This is not the sole responsibility of any law enforcement agency, rather it is the national contribution of each and every citizen. He added.

ANF with very limited human resources of just 3,000 force can not cope up with this menace.

We have sent the summary to Prime Minister to increase the ANF human and infrastructure capital.

While expressing his appreciation for the efforts, being made by the ministry, secretary Iqbal Mehmood said we have engaged media houses, radio channels, and other modes of social media to create awareness the general public about this evil threat in the society.

DG ANF, briefed that in last year alone ANF had seized 400 billion rupees worth of drugs in different operations across the country in collaboration with international partners. Similarly, unveiling the statistics from the poppy bumper crop this year across the neighboring borders, could produce round 4,800 tons of heroin.

We are working vigilantly and actively to abandon this heinous social evil, keeping in view our limited resources, DG Added. We expect from the civil society, media and general public to help us in fighting against this crime in the society.

Published in The Express Tribune, February 11th, 2018.
COMMENTS
Comments are moderated and generally will be posted if they are on-topic and not abusive.
For more information, please see our Comments FAQ