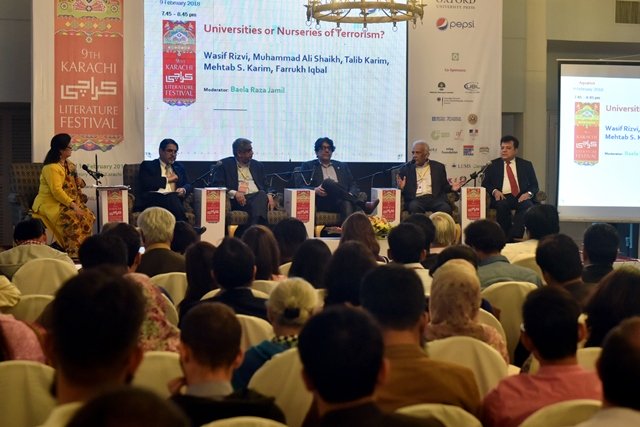 ---
KARACHI: Law enforcement agencies finding students involved in terrorism is a trend that has set off alarm bells. The problem is such that it has led to the intervention of the Higher Education Commission and even the army chief.

Many have also started to wonder why university-going students or graduates are becoming terrorists. In view of the ongoing debate, the organisers of the Karachi Literature Festival gathered the city's leading educationists to talk about whether varsities have become terror sanctuaries in a session titled 'Universities or Nurseries of Terrorism?' on the first day of the festival on Friday. The talk was moderated by Baela Raza Jamil.

During the talk, some panellists said the problem is not that alarming and it would be an over-statement to say that universities have become nurseries of terrorism.

Sindh Madressatul Islam University Vice-Chancellor Muhammad Ali Shaikh said, "Radicalisation has been taking place but it has not reached a point to call it a nursery of terrorism."

The scholar blamed a lack of diversity as one of the reasons behind the rise of radicalisation in varsities. He gave the example of Mardan, saying it is impossible to find a student from Karachi in that varsity. He added, "If there is diversity, then tolerance comes in automatically."

Ninth KLF opens its doors to Karachiites

Shaikh also said that the code of conduct being dictated in many public sector varsities is by student wings of political parties, which were used by the state during the soviet war.

Habib University's Wasif Rizvi also agreed with Shaikh, saying, "Nursery implies it [terrorism in universities] is a systematic issue and I don't believe that."

The educationists also connected the problem of militants emerging from varsities to the time of former president General Ayub Khan. "The problem started with Ayub Khan and his ill-fated decree in which he said that in Pakistan universities will be either be of medical or engineering," said Rizvi.

He also shared a study conducted by the British Council in which they examined 300 to 400 militants and found that most of these militants were business graduates, engineers, doctors or scientists. He added, "There were no political scientists or anthropologists to be found in those cases."

The Habib University president added that if the country's talented students go into narrow disciplines like these, then their contact with society gets disconnected. He added that they continue to form their opinions on other topics which are very clumsy and are not challenged as they surrounded by like-minded people.

Repetitive KLF session?

Rizvi also hinted that the focus should be shifted towards liberal arts and curriculum should be designed in a holistic manner.

Dean of the Institute of Business Administration (IBA) Farrukh Iqbal agreed with Shaikh and Rizvi, saying that nursery is a powerful metaphor.

He shared findings of researchers Diego Gambetta and Steffen Hertog's book 'Engineers of Jihad: The Curious Connection between Violent Extremism and Education'. He said that violent extremism and personality traits lead to extremism. He also added that in their study the authors found engineers to be massively over represented in the sample.

On the other hand, Institute of Business Management President Talib Karim said the problem is very serious and there is a need to take steps to examine the issues which are leading students towards radicalisation. He told the audience that his university is trying to monitor the problem very discreetly by conducting a test to see what the students think about the society around them. He added that they would share their findings with other universities to reach a solution.

Researcher Mehtab Karim, on the other hand, argued that everyone was to blame for what has happened in universities.