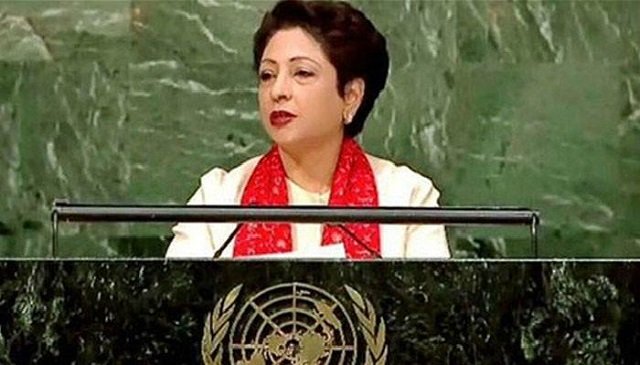 ---
NEW YORK: Pakistan will stand by the Kashmiri people and support their just struggle for self-determination until the achievement of their goal, Ambassador Maleeha Lodhi told a large gathering of Pakistanis and Kashmiris in New York on Friday.

Presiding over a meeting organised by the Consulate General of Pakistan to mark Kashmir Solidarity Day, she said that the country was working hard at the United Nations in seeking the implementation of its resolutions on the decades-old Kashmir dispute.

"The Kashmir issue is alive at the UN and will remain alive until it is resolved," Ambassador Lodhi told the cheering audience.

Pakistan vows to resist UN reforms serving interest of 'a few countries'

But, she said, the efforts of the Pakistan government and its mission here must be complemented by the community members in spreading the word about the grave situation in Kashmir where Indian occupation forces are attempting to suppress a popular uprising for freedom.

Ambassador Lodhi briefed the audience about the steps taken by Pakistan for the resolution of Kashmir dispute on the diplomatic front.

Only a few days back - on February 6 - she said, she had raised the Kashmir issue in the Security Council and urged the 15-member body to implement its resolutions non-selectively in order to establish its credibility.

In September, Prime Minister Shahid Khaqan Abbasi had forcefully stated Pakistan's position on Kashmir in the UN General Assembly and later raised the issue with UN Secretary-General Antonio Guterres.

Pakistan, US resetting ties amid changing geopolitical situation: Maleeha Lodhi

The prime minister had urged Guterres to take steps to resolve the issue as it posed a threat to regional and international peace.

On her part, Ambassador Lodhi said, she had also highlighted the Kashmir issue, especially the human rights violations there, in all the forums of the United Nations and had even spoken about it to Secretary-General Guterres.

The 193-member Assembly has also adopted a Pakistan-sponsored resolution on self-determination which had 70 co-sponsors.

Ambassador Lodhi said that Pakistan had also written several letters to the secretary-general and the president of the Security Council protesting India ceasefire violations in Kashmir.

US threatens to unveil anti-Pakistan actions

"Until Kashmir is liberated from Indian occupation, our moral, political and diplomatic support to the Kashmiri people will continue," the ambassador declared.

Earlier, Consul General Raja Ali Ejaz urged the audience make contacts with American politicians, lawmakers and common citizens and apprise them of the situation in Kashmir.


COMMENTS
Comments are moderated and generally will be posted if they are on-topic and not abusive.
For more information, please see our Comments FAQ