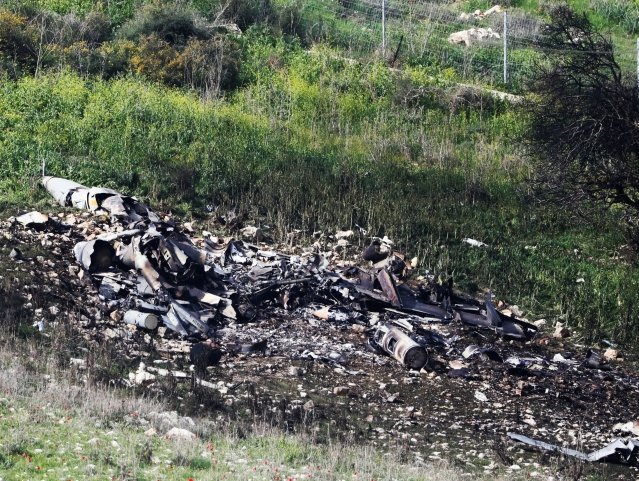 ---
Israel's military attacked 12 Syrian and Iranian targets in Syria on Saturday in what it described as "large-scale" raids following an exchange of fire earlier in the day.


"A few minutes ago, (Israeli aircraft)... targeted the Syrian Aerial Defence System and Iranian targets in Syria," a military statement said.

"Twelve targets, including three aerial defence batteries and four Iranian targets that are part of Iran's military establishment in Syria were attacked."

It added that "during the attack, anti-aircraft missiles were fired towards Israel, triggering alarms that were heard in northern Israel."

Earlier Saturday, an Israeli fighter jet crashed after coming under fire from Syrian air defences during attacks against "Iranian targets" in the war-torn country, an Israeli military spokesman said.

The Israeli pilots of the crashed F16 were reported alive, though one was severely wounded.

Israel's initial raid came after it intercepted what it said was an Iranian drone entering its airspace from Syria.

The confrontation was the most serious between arch foes Israel and Iran since the start of the civil war in Syria in 2011.




It marked the first time Israel publicly acknowledged attacking what it identified as Iranian targets in Syria since the war began.

The Israeli military issued a warning to Tehran, saying it was responsible for the drone that entered Israel. Israel has repeatedly warned in recent weeks against the presence of Iranian forces in neighbouring Syria.

'Iranian UAV in Israeli airspace'

The Israeli military "targeted the Iranian control systems in Syria that sent the UAV (unmanned aerial vehicle) into Israeli airspace. Massive Syrian anti-air fire, one F16 crashed in Israel, pilots safe," spokesman Lieutenant Colonel Jonathan Conricus tweeted.

According to a separate military statement, Israeli forces identified an "Iranian UAV" launched from Syria and intercepted it in Israeli airspace with a combat helicopter.

Police said the F16 crashed in the Jezreel Valley in northern Israel.

"During the attack, multiple anti-aircraft missiles were fired at IAF (Israel Air Force) aircraft," the military statement read.

"The pilots of one of the aircraft abandoned as per procedure. The pilots landed in Israeli territory and were taken to the hospital for medical treatment."

Conricus meanwhile said that the army had confirmed "accurate hits of (the) Iranian UAV control facility" in Syria.

"Iran is responsible for this severe violation of Israeli sovereignty," Conricus said on Twitter.

'Israeli aggression against Syrian military base'

Syria said its air defences repelled two Israeli raids on its military bases in the centre of the country, hitting more than one warplane during the first.

"At dawn, the Zionist enemy carried out a new aggression against one of our military bases in the centre of the country," state news agency SANA reported.

"Our air defences repelled it and hit more than one plane."

The Syrian Observatory for Human Rights, a Britain-based monitor of the seven-year civil war, said the Israeli raids had targeted several military bases in the east of the central province of Homs used by both Iranian and Russian military personnel deployed in support of the regime.

Air raid sirens had gone off in Israel in the early hours of the morning following the UAV interception and raids.

The army said it was "monitoring events and is fully prepared for further action, depending on assessments and necessity."

'Nobody tries us'

Israeli Prime Minister Benjamin Netanyahu has held a series of meetings in recent months with Russian President Vladimir Putin on Iran's influence in war-torn Syria and Lebanon.

Netanyahu has been seeking to persuade Russia to limit Iran's presence near Israeli territory and to stop it from entrenching itself militarily in Syria.

In a meeting in Moscow last month, Netanyahu reiterated Israel's concerns of what he described as the attempts of Iran to establish a military presence in Syria and produce accurate weapons against Israel there.

"We won't accept either of those, and will act according to our needs," Netanyahu said following the meeting with Putin.

On Tuesday, Netanyahu had taken the members of his security cabinet for a tour of the Golan Heights, where they were briefed by the military on the situation.

"We want peace, but are prepared for any scenario, and suggest that nobody tries us," he said.