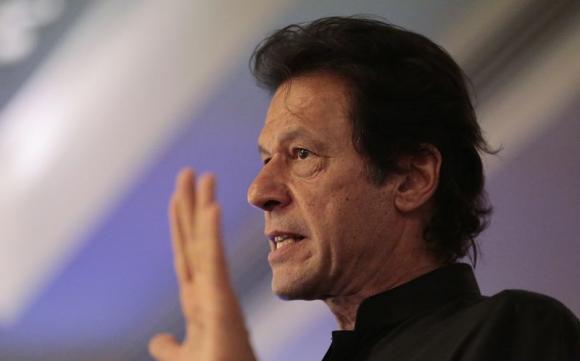 ---
ISLAMABAD: Pakistan Tehreek-e-Insaf chairman Imran Khan on Thursday defied the Election Commission of Pakistan (ECP) by addressing a rally in Lodhran.

The move is likely to force the commission to take action against Imran Khan and PTI's candidate Ali Khan Tareen, as both have been asked through separate letters to abide by the code of conduct for the by-election in Lodhran-I.

"We are looking into the matter and will take due action as per law. We have taken notice," ECP spokesman told The Express Tribune.

He stated that the notice has been served on the persons concerned in this connection.

Imran reminded to adhere to ECP code of conduct as Lodhran by-elections loom

In the letters, the ECP had invited the attention of Khan and Tareen to abide by the code of conduct under which no parliamentarian can visit the constituency or a polling station after issuance of the schedule of by-election till the completion of the election.

The letter stated that as per information, the PTI has planned a public rally at Fiber Cotton Factory, Adda Pipli Wala, Multan Road Lodhran, which may be attended by parliamentarians and general public.

According to the letters, as per the code of conduct and directives issued by the ECP on December 20, 2017, parliamentarians -- including the prime minister, chief minister, federal ministers, state ministers and advisers of CMs or any person on their behalf shall not visit the constituency or a polling station after the issuance of schedule of by-election till the completion of poll.

It stated that the ECP expects political parties, their leadership and candidates to comply with the code of conduct to increase public support for fair and transparent elections.

"As the above area is part of the constituency NA-154 (Lodhran-1) where by-election is scheduled to be held on February 12, 2018; therefore, your advised to abide by the Code of Conduct in letter and spirit," stated Regional Election Commissioner/District Returning Officer, NA154 Lodhran-1, Syed Hammad Ijaz.

The seat fell vacant after the apex court disqualified Jahangir Tareen for not disclosing his assets.

ECP says returning officer to decide on MQM-P Senate nominations

Following his disqualification his son Ali Khan Tareen had submitted his nomination papers to contest the by-election.

The constituency is witnessing by-poll for the second time in the last five years.

In the general election of 2013, Muhammad Siddique Khan Baloch won as an independent candidate. In 2015 by-election held after the disqualification of MNA Siddique Baloch.

In 2015, Jahangir Khan Tareen of the PTI elected MNA but he was also disqualified on December 15, 2017, by the Supreme Court of Pakistan.
COMMENTS (2)
Comments are moderated and generally will be posted if they are on-topic and not abusive.
For more information, please see our Comments FAQ