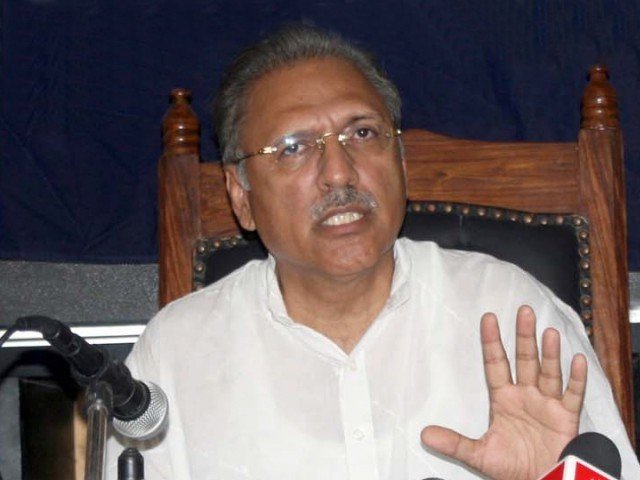 ---
PESHAWAR: A senior leader of the ruling party on Friday explained a contentious decision to strike a political alliance with a man dubbed the 'Father of Taliban' and to provide massive funds to seminaries said to be the birthplace of the feared Haqqani network as moves which were in line with a widely agreed plan to counter terrorism in the country.

He also lashed out at political opponents in Sindh, claiming that only their party had stood up for the rights of Pashtuns and other ethnicities in the port city of Karachi.

Addressing a news conference at the Khyber-Pakhtunkhwa (K-P) Chief Minister Secretariat in Peshawar on Friday, Pakistan Tehreek-e-Insaf (PTI) National Assembly Member Dr Arif Alvi stated that the Mutahidda Qaumi Movement (MQM-Pakistan) and Pakistan Peoples Party (PPP) were on the decline in Sindh.

"MQM-Pakistan is declining due to ethnic reasons," he said, adding that if all ethnic issues were resolved, both the MQM-Pakistan and the PPP will fade away from the political limelight in Sindh.

Referring to the killing of South Waziristan native Naqeebullah Mehsud in an alleged police encounter reportedly by Malir SSP Rao Anwar, Dr Alvi stated that Pashtuns and non-Urdu speakers have been killed in Karachi for over 30 years, but it was only PTI Chairman Imran Khan who stood against the brutal killings and lodged cases against MQM-London's supremo Altaf Hussain.

Dr Alvi also appreciated the role played by K-P police in successfully tracing the suspects believed to have raped and murdered a four-year-old girl and the murderers of university student Mashal Khan.

He added that Asma's murder was a 'blind' case with no eyewitnesses and ever fewer clues, but the police managed to arrest the killers within a month. Furthermore, he said that police was making progress in the murder of a medical student in Kohat and will soon apprehend the suspects.

Talking about the National Action Plan (NAP) to defeat terrorism, he said that the plan had been created with support from all political parties. Madrassa reforms were also a part of the NAP, PTI's former secretary general said, but only K-P had followed and implemented the plan.




"The [political] accord with Maulana Samiul Haq was in accordance with the NAP," Dr Alvi explained.

"You cannot leave behind 2.4 million children studying in religious seminaries and this is why Haqqani was supported financially and all of this was done under NAP," he added.

In keeping with PTI tradition, Dr Alvi also complained about the media.

"The national media are not promoting K-P's positive image," Dr Alvi said, as he once again pointed to alleged police excesses in Sindh.

"You know what is happening in police stations in Sindh? Two things, Half fry [to break legs] and Full Fry [to kill]," Dr Alvi said as he made an unspoken comparison with K-P police.

Dr Alvi also supported Imran's pejorative statement towards parliament by saying, "The parliament had passed an incorrect law in favour of a corrupt person and laws are being enacted to protect robbers.

Published in The Express Tribune, February 10th, 2018.
COMMENTS
Comments are moderated and generally will be posted if they are on-topic and not abusive.
For more information, please see our Comments FAQ