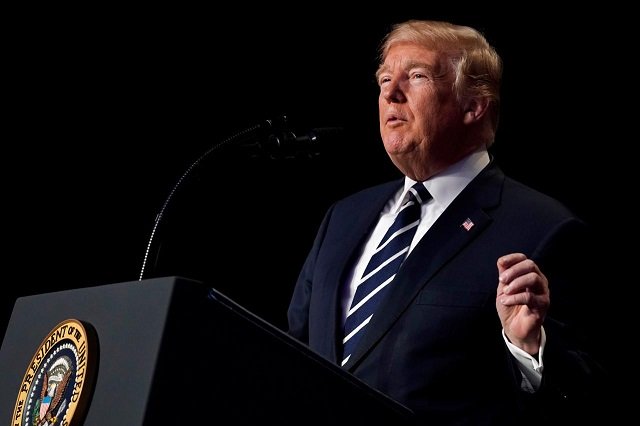 ---
WASHINGTON: The Trump administration is considering making it harder for foreigners living in the United States to get permanent residency if they or their American-born children use public benefits such as food assistance, in a move that could sharply restrict legal immigration.


The Department of Homeland Security has drafted rules seen by Reuters that would allow immigration officers to scrutinize a potential immigrant's use of certain taxpayer-funded public benefits to determine if they could become a public burden.For example, US officials could look at whether the applicant has enrolled a child in government pre-school programs or received subsidies for utility bills or health insurance premiums.

The draft rules are a sharp departure from current guidelines, which have been in place since 1999 and specifically bar authorities from considering such non-cash benefits in deciding a person's eligibility to immigrate to the United States or stay in the country.

Trump proposes US citizenship plan for 1.8 mn undocumented immigrants

"Non-citizens who receive public benefits are not self-sufficient and are relying on the US government and state and local entities for resources instead of their families, sponsors or private organizations," the document states. "An alien's receipt of public benefits comes at taxpayer expense and availability of public benefits may provide an incentive for aliens to immigrate to the United States."

Receiving such benefits could weigh against an applicant, even if they were for an immigrant's US citizen children, according to the document.

"The administration is committed to enforcing existing immigration law, which is clearly intended to protect the American taxpayer," said Tyler Houlton, a DHS spokesman. "Any potential changes to the rule would be in keeping with the letter and spirit of the law – as well as the reasonable expectations of the American people for the government to be good stewards of taxpayer funds."

Trump administration considers pausing US refugee family reunification programme

In 2016, nearly 383,000 people who would be subject to the new standards obtained permanent residence while already in the United States, according to DHS statistics.

The rules would not apply to permanent residents applying for citizenship, but would apply to a wide range of people living or working in the United States, including close family members of US citizens and workers employed by US companies.

In addition, nearly 620,000 other immigrants living abroad obtained US permanent residence through the State Department in 2016.

If DHS publishes a new rule, the State Department will decide then whether to change its guidance, said Ashley Garrigus, a spokeswoman for the Bureau of Consular Affairs.

US immigration law has long required officials to exclude a person likely to become a "public charge" from permanent residence.

US judge blocks Trump move to end DACA program for immigrants

But current US guidelines, in place since 1999, narrowly define "public charge" to be a person "primarily dependent on the government for subsistence," either through direct cash assistance or government-funded long-term care.

Current guidance instructs immigration officers to look at a narrow range of public benefits in trying to determine whether someone is likely to become a burden, specifically directing officers not to consider most non-cash benefits, such as government food assistance programs or preschool programs.

The new rules, if adopted in their current form, would significantly change these guidelines. Under the draft rules, a person would be considered a "public charge" if they depend on "any government assistance in the form of cash, checks or other forms of money transfers, or instrument and non-cash government assistance in the form of aid, services, or other relief," according to the document seen by Reuters.
COMMENTS
Comments are moderated and generally will be posted if they are on-topic and not abusive.
For more information, please see our Comments FAQ