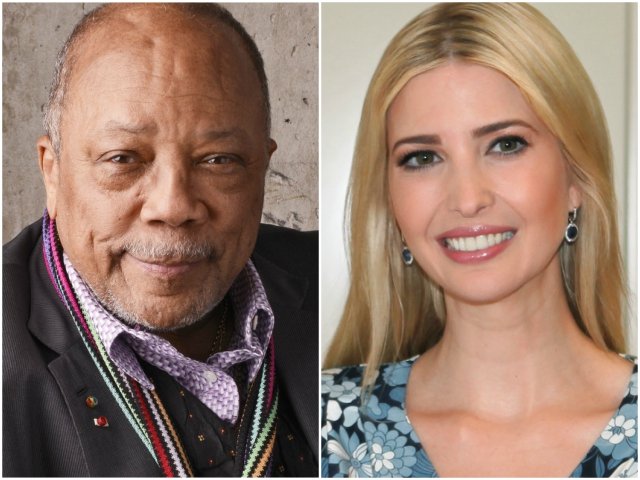 ---
LOS ANGELES: In an interview with Vulture magazine, legendary music producer Quincy Jones revealed he dated US President Donald Trump's daughter and adviser Ivanka Trump.

Jones, who is the father of actor Rashida Jones and ex-husband of Twin Peaks star Peggy Lipton, says designer Tommy Hilfiger set them up.




He also slammed President Donald Trump, saying he is the reason why outward racism has resurfaced.

"I used to date Ivanka, you know... twelve years ago. Tommy, who was working with my daughter Kidada, said, 'Ivanka wants to have dinner with you'. I said, 'No problem. She's fine'," said Quincy.




The 84-year-old added, "She had the most beautiful legs I ever saw in my life. Wrong father, though." Jones is 48 years older than Ivanka.

Speaking of music artists, Quincy called late icon Michael Jackson greedy, "I hate to get into this publicly but Michael stole a lot of stuff. He stole a lot of songs."

The Grammy winner also commented on Michael Jackson's multiple plastic surgery procedures. "He'd always justify it and say it was because of some disease he had. I don't believe that."

Of Jimi Hendrix, Quincy said he was "too chicken" to play on his album with Toots Thielemans, Herbie Hancock and others.




He went on to say that when he first met the Beatles, he thought "that they were the worst musicians in the world."

Quincy did name several young musicians he thinks are talented, including the likes of Bruno Mars, Chance the Rapper, Kendrick Lamar, Ed Sheeran, Sam Smith and Mark Ronson.

The music producer also claimed that he knew who killed President Kennedy, alleging that it was mobster Sam Giancana. "The connection was there between Sinatra and the Mafia and Kennedy. Joe Kennedy — he was a bad man — he came to Frank to have him talk to Giancana about getting votes."

Have something to add to the story? Share it in the comments below.
COMMENTS
Comments are moderated and generally will be posted if they are on-topic and not abusive.
For more information, please see our Comments FAQ