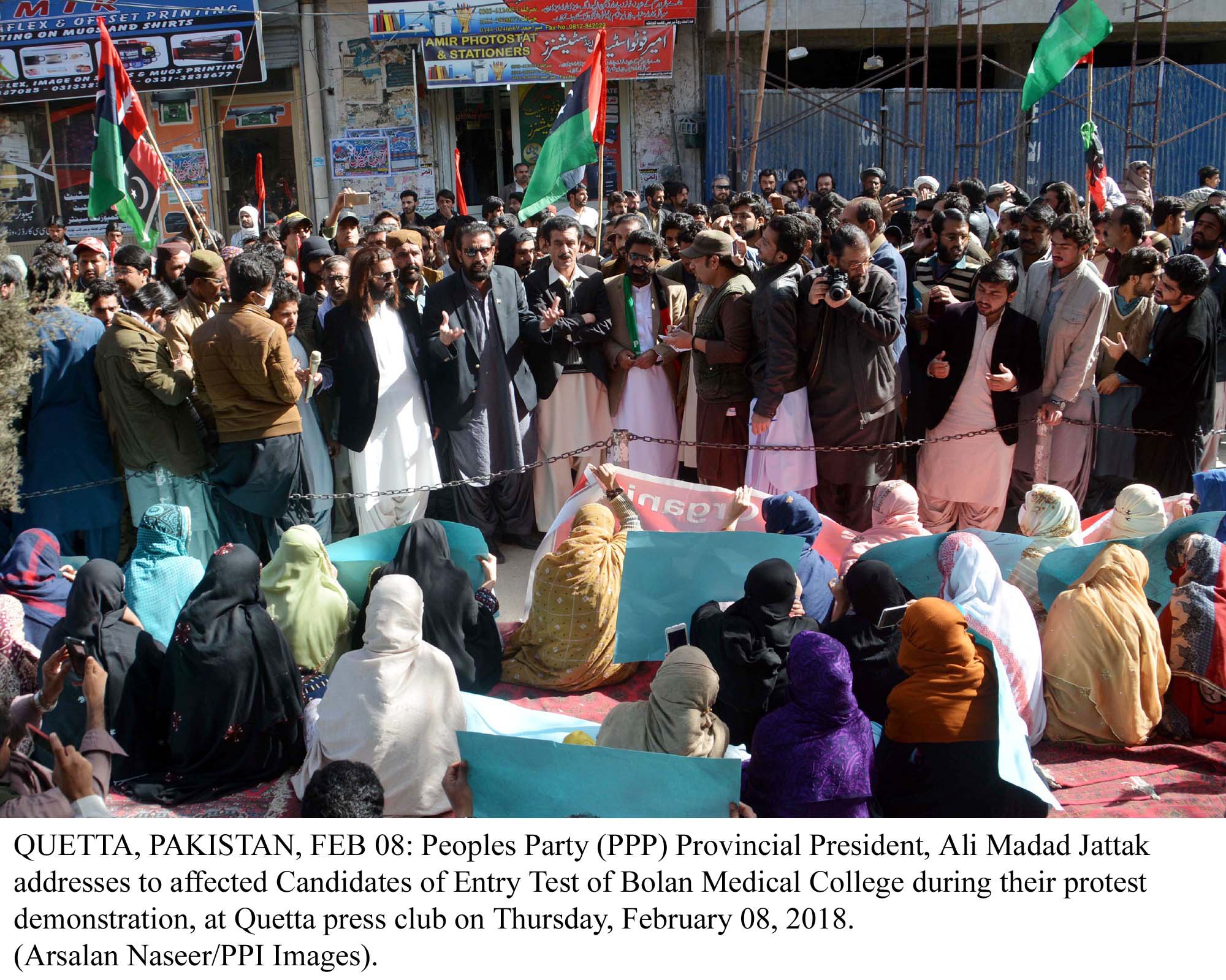 ---
QUETTA: Students from various districts of Balochistan on Thursday resumed their sit-in protest outside the Quetta Press Club against the discrepancies in the entry test of Bolan Medical College.

The other day, Balochistan Chief Minister Abdul Quddus Bizenjo's assurance to students that their demand for conducting a new entry test would be met had ended the sit-in protest. But now as the Higher Education Commission (HEC) released a list of all successful candidates of the entry test, students resumed their sit-in protest.

CM's assurance helps end students' sit-in

"On February 4, Bolan Medical College displayed poor performance while conducting the entry test as some candidates were seen using cell phones quite openly, cheating in plain sight," said student leaders Zajir Rukhshani, Siraj Baloch, Aurangzeb and Mahrukh Baloch outside the press club.

They said that halls were booked for some VIP candidates and many of them were caught using their cell phones, but no action was taken against them.

They alleged that the entrance test was scheduled to commence at 12pm sharp, but instead it began at 1pm. "Students were not even checked before being allowed to enter the examination halls," they added.

Education trees to blossom from March in Balochistan

The student leaders said that it was unfortunate that the HEC released the list of all successful candidates even though the Balochistan chief minister had ordered investigation into the discrepancies.

Rejecting the HEC list, they said that they had filed a petition in the Balochistan High Court against the discrepancies.

"We have all the evidence to discredit the now maligned entry test and will provide them to the court," they added.

Students held placards and banners with demands inscribed on them.

A delegation of the Pakistan Peoples Party also met the protesting students and expressed solidarity with them. The PPP leaders said that they would also participate in the sit-in in case the Balochistan chief minister does not deliver on his assurances.

The protesting students demanded that the much-maligned entry test be scrapped and the authorities concerned announce a date for a new entry test. "The government should take strict action against the responsible persons so that such incidents do not happen in the future," they said.
COMMENTS
Comments are moderated and generally will be posted if they are on-topic and not abusive.
For more information, please see our Comments FAQ