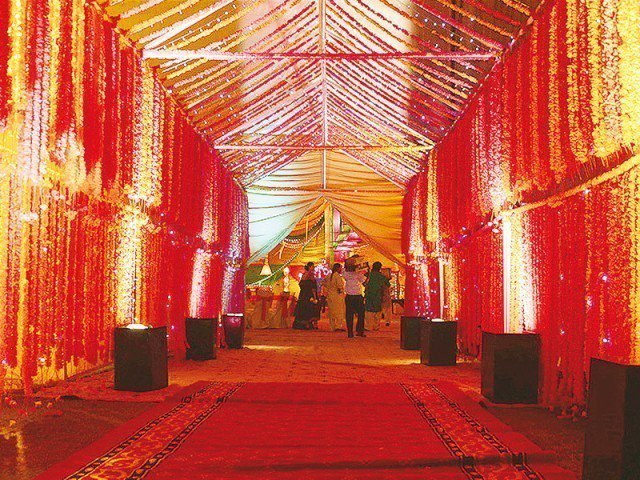 ---
ISLAMABAD: With orders from the top court to regularise wedding halls and marquees in the federal capital, the board of the civic authority is expected to convene early next week to deliberate on new parameters devised for this purpose.

The Capital Development Authority (CDA) presented a set of new rules for regulating wedding halls and marquees before the Supreme Court on Thursday. At this, the SC directed the authority to seek the approval of its board within a week.

The trend of establishing wedding halls and marquees has become popular over the past decade. A lack of oversight by the authority coupled with its failure to devise appropriate rules to regulate them, allowed the illegal activity to flourish.

However, CDA swung into action last month when the Supreme Court directed it to submit a report on all marquees and wedding halls operating in the city.

The subsequent survey unearthed that as many as 67 illegal wedding halls and marquees were operating in different parts of the capital.

According to CDA documents, there are 12 such marquees operating in the newly developed Sector E-11, two in Sector H-13, six in Sector G-12 and 20 along the Islamabad Expressway. A number of wedding halls and marquees have also opened along Lehtrar Road and in Bhara Kahu.

The document states that the majority of these facilities do not have parking space for visitors.

As per the new parameters for regularizing wedding halls and marquees, drafted by the CDA's planning wing, halls seeking CDA endorsement must be spread over at least four kanals of land.

Moreover, halls will be allowed to have in three combinations. These include lower ground, ground plus one storey and ground plus two storeys. Basements at these establishments will only be authorized to be used as parking areas. Moreover, there must be at least one parking space for every 250 square feet of covered area.

The draft regulations further stipulate that a minimum of eight kanals of land will be required to set up marquees. Moreover, owners will have to reserve at least 70 per cent of the total area for parking and circulation.

Published in The Express Tribune, February 9th, 2018.
COMMENTS
Comments are moderated and generally will be posted if they are on-topic and not abusive.
For more information, please see our Comments FAQ