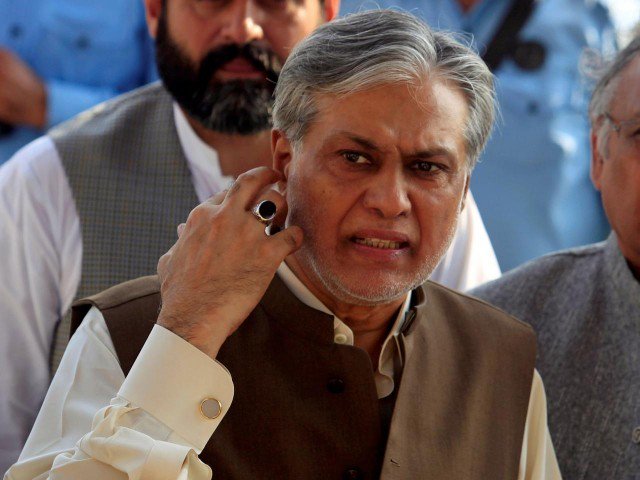 ---
ISLAMABAD: The Pakistan Tehreek-e-Insaf (PTI) announced on Thursday that it would challenge the nomination papers of former finance minister and senior PML-N leader Ishaq Dar, filed for the Senate elections, due to a pending corruption reference against him.

The Imran Khan-led PTI also announced that besides challenging Dar's nomination forms they would also challenge nominations of other PML-N leaders who have been alleged of committing corruption. The party added that they have formed a two-member committee to challenge those nominations.

Nominations on behalf of Ishaq Dar have been submitted from Punjab province in two different categories which includes a general seat and a technocrat seat.

A statement issued by party's central media department says that Dar is not only involved in money laundering but also absconding from different courts in graft cases pending against him.

"It's utterly shameful to learn that PML-N has nominated a plunderer like Dar for senate elections," the statement added.

IHC dismisses Ishaq Dar's petition seeking to set aside earlier judgement

PTI chairman Imran Khan has tasked two senior party leaders, Chaudhry Muhammad Sarwar and Mian Mehmoodur Rasheed, to complete the necessary formalities and challenge Dar's nomination.

The PTI spokesperson said besides Dar the party would also check the particulars of all PML-N nominees for the Senate elections. He added that if any one of them is found to be involved in corruption or corrupt practices would also be challenged.

PTI to field candidates in Punjab

On the other hand, the PTI also nominated Chaudhry Muhammad Sarwar, Andleeb Abbas and Ijaz Chaudhry as their candidates to contest the March 3 Senate elections from Punjab.

Sarwar has been nominated as the party's candidate from Punjab on a general seat, while Andleeb Abbas on a reserved seat for women. Also, Ijaz Chaudhry managed to secure party's nomination from Islamabad on a technocrat seat.

However, independent observers believe that the PTI (or any other opposition party) is not in a position to win a single Senate seat from Punjab and Islamabad due to their strength in the Punjab Assembly and the National Assembly.

Given its majority, the PML-N is likely to clean sweep the Senate elections on all 12 seats (seven general seats, two each technocrats and women seats, and one minority seat) from Punjab. Punjab Assembly members form the electorate college for the 12 senate seats of the province.

Accountability court gives NAB deadline to submit objections in Dar's case

In the 371-seat Punjab Assembly, the PML-N enjoys an overwhelming majority with 309 MPAs, followed by PTI with 30 seats, PPP and PML-Q eight seats each, PML-Z three seats, JI, JUI-F, BNAP and PNML have one seat each, and five independent MPAs.

According to the formula, vote of at least 52 MPAs will be required to elect one senator on a general seat from Punjab. If the whole opposition, including independent MPAs, join hands than they would collectively have 58 votes to secure a senate seat but this is unlikely.

Given the situation, it's highly unlikely that any opposition party would be able to elect any of its candidates from the Punjab province.

The party winning over majority of MPAs vote will be allotted the technocrat, women and minority seats.

PTI can only win this election if it engages itself in horse-trading in the Punjab assembly, as the votes are cast under secret ballots. If the PTI manages to win over loyalties of some MPAs, than they would be able to get the required number of votes to win a senate seat.
COMMENTS
Comments are moderated and generally will be posted if they are on-topic and not abusive.
For more information, please see our Comments FAQ