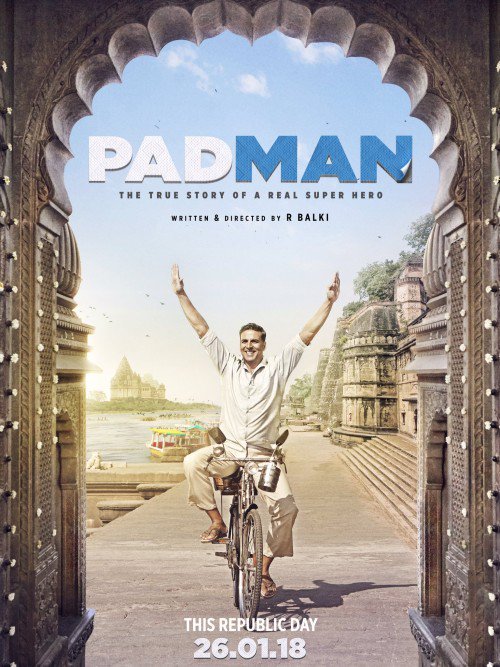 ---
DUBAI: Bollywood is no stranger to plagiarism - whether it's Pakistani dramas or Hollywood films, content has many a times been 'inspired' to make big blockbusters.

The Will Smith starrer Hitch inspired Govinda's Partner, Mere Yaar Ki Shadi Hai was a takeaway from My Best Friend's Wedding, Salman Khan's Chal Mere Bhai had many scenes similar to Pakistani drama Ankahi and the critically acclaimed Bheja Fry was borrowed from the French film The Dinner Game's rip-off.

More recently, the Rani Mukherji-Aditya Chopra venture Hichki, has been accused of "lifting" from a project worked on by author Nishant Kaushik.




Another film that has apparently liberally borrowed from another man's hard work is PadMan. A young writer named Ripu Daman Jaiswal has filed an FIR against Akshay Kumar, claiming that PadMan is a copy of his draft that he previously sent to Dharma Productions.

PadMan, an upcoming film produced by Twinkle Khanna's Grazing Goat Pictures and stars Akshay Kumar, Radhika Apte, and Sonam Kapoor, is the story of Arunachalum Murugunatham who invented low-cost sanitary napkins in his native locality of Tamil Nadu. He was awarded the Padma Shri in India for his work.




In a series of Facebook posts and screenshots of e-mails sent to Ryan Stephen at Dharma Production, Jaiswal alleges that he has not been credited for the film. It was only through the film's trailer that he found out many scenes were 'inspired' from his ideas and his fictional take on Murugunatham's life.

'Padman' is an honest subject: Akshay Kumar

The young writer, who filed a complaint against Kumar and wife Khanna, and appealed through Facebook posts said, "I have just filed a police complaint - I have no money to hire a lawyer."

He continued, "I went to the association and told them that my work has been copied but they said I do not have enough evidence."




He went on to claim that someone is yet to contact him following the FIR he filed at a local police station on January 23, 2018. "The senior police inspector told me that they will do an investigation and will revert back to me via phone call. I am still waiting for that call."

So what similarities did Jaiswal see between his script and PadMan that led him to believe his idea was stolen? "The similarities are not only based on the concept but also my fictional scenes. If you see the trailer, there's a scene where Akshay Kumar gives the sanitary pad to his sister - that's my fictional scene; something I created out of the figment of my imagination," said the writer.




"In reality, Murugunatham does not have a sister. So, if you are writing a film based on his life, how can you use fictional scenes which have previously been registered by me?" he questioned.

He continued, "There are also similarities within the plot. In my script, the lead character's wife falls pregnant and due to some complications, she has to be taken to the hospital. I saw that same scene in the making of PadMan, online."

Twinkle Khanna doesn't support the idea of menstrual leave

He went on to speak about the only difference he noticed within the two screenplays, "The Sonam Kapoor character in my plot is a journalist, I think that's the only thing they have changed and made her a medical student or something."




When asked whether this was his first script, Jaiswal told The Express Tribune, "Yes, this is my first script - I started writing it three years ago. I had seen Arunachalum Murugunatham's Ted Talk, where he spoke about how he developed low cost sanitary pads for rural women and I just remember being in absolute awe," he shared.

"I started writing a film on his life and during my research, I discovered that he used machinery to make the pads but the production was not ecofriendly. When you're writing a film on someone's life, you can't raise all the issues and are somewhat restricted," Jaiswal shared.

He added, "I wanted to make this a commercial film, where I could use funny fictional scenes to make it more interesting and exciting for the audience."




Many frontline Bollywood celebrities have taken up the 'PadMan challenge' which includes them taking a picture with a sanitary pad and posting it on social media to get rid of the taboo around menstruation.

"It isn't just about credit, you know," Jaiswal went on to say. "I have actually raised several issues that women face in rural India. There is no proper sanitation, even in government hospitals, there are no facilities available."

He spoke of a documentary that he worked on where he discovered that 80% of women in rural India die of cervical cancer. "Tell you what, even if they remove the taxes on sanitary napkins, there is still no way these women would be able to afford them. There is no awareness whatsoever," he concluded.

Have something to add to the story? Share it in the comments below.