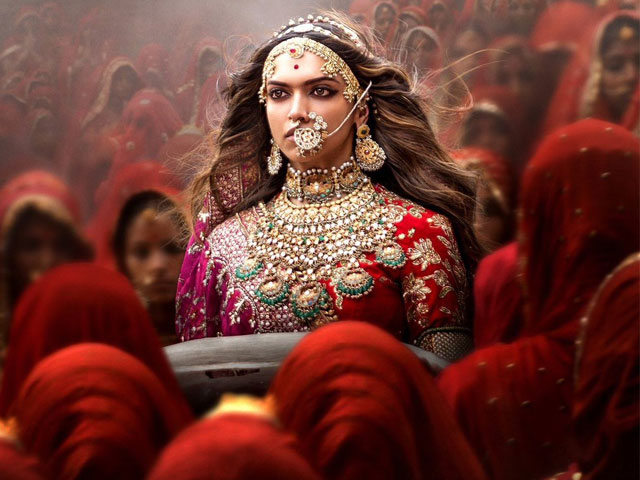 ---
LAHORE/KARACHI: Sanjay Leela Bhansali's latest magnum opus Padmaavat recently released after a trail of controversies by an extremist political party, Shri Rajput Karni Sena who framed it for distortion of history and indecent portrayal of the Queen Padmini.

While the Indian Supreme Court cleared the movie for an all-country release, Pakistan cleared Padmaavat for screening without any cuts across the country.

'Padmaavat' cleared for release in Pakistan

While Karni Sena backed off from protests after watching the movie, as it highly glorified the Rajput customs and traditions, it was arigued whether the movie portrayed Muslim ruler Aalaudding Khilji in extremely bad taste.

After a little over than two weeks of screening, the film sparked controversy as a petition has been filed in Lahore High Court for implementing a ban on the movie for portraying Muslims in a negative light.




However, the Lahore High Court has recommended the petition to the Provincial Censor Board for a decision. According to sources, the Punjab Censor Board will be reviewing the film again and in this connection, a full board meeting will be invited to review Padmaavat.

On the other hand, the Pakistan Film Producer Association is criticising provincial and central censor boards on issuing a certificate to the film.

Karni Sena declares withdrawal of protest against 'Padmaavat'

According to sources, no written order was yet received by the Punjab Censor Board and the issue came to light after the members received a letter for a full board meeting.

"A full board meeting will be held to review Padmaavat again. A decision regarding the ban will be taken after watching objectionable scenes and dialogues," said Usman Pirzada, a senior member of Punjab Film Censor Board told The Express Tribune.




It is essential to mention here that since Padmaavat protests were all the rage in India, Pakistani film producers were also raising their concerns on its release at Pakistan.

The local distributors of the movie, HKC Entertainment told The Express Tribune that they haven't been notified of any petition against the screening of the movie.

"We haven't been notified of any ban on Padmaavat in Pakistan, therefore, there is no ban on the film as of now," said a spokesperson for the HKC.

After 'Padmaavat', Kangana Ranaut's 'Manikarnika' faces protests

"It is sad that the appropriate action was taken when the film has already done well in the country. I think it is useless now as the public has already watched it, and saw the inappropriate portrayal of Khliji in the movie. There was clear distortion of history the film, but it was Khilji's character's, not Padmavati's. It is sad that our censor boards allowed its release but it should be banned if the nation thinks it was wrong," said Ch Ejaz Kamran, Chairman Pakistan Film Distributors Associations and senior member Pakistan Film Producers Association.



Have something to add to the story? Share it in the comments below.