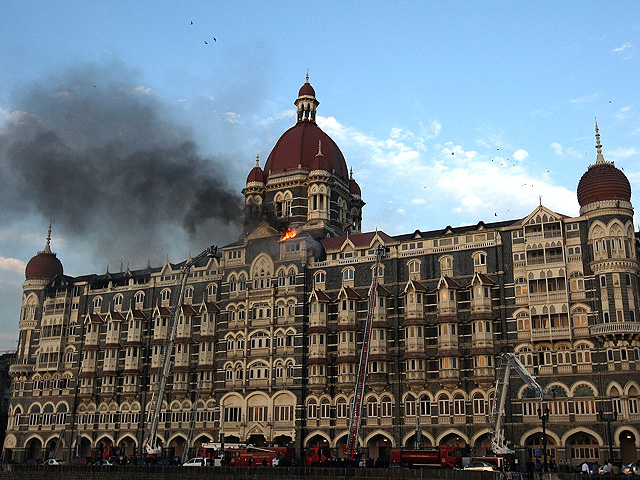 ---
MUMBAI: A new, low-budget Bollywood film depicting the deadly 2008 Mumbai attacks opens in India this week, less than a month after the sole surviving gunman was convicted and sentenced to death.

"26/11", which was made for just 20 million rupees (420,000 dollars) with a cast of relative unknowns, is due to hit more than 100 screens across the country on Friday.

Lead actor Rajan Verma dedicated the film to India's police and security services, who battled the 10 heavily armed Islamist militants to bring the bloody, three-day siege to an end.

"The film is a tribute to all the martyrs of Mumbai police and our armed forces who lost their lives in the terrorist attack," said Verma, who plays Pakistani gunman Mohammed Ajmal Amir Kasab. "The film has no songs and dance but only action and what happened on that tragic night," he added.

Kasab, 22, was the only gunman captured alive during the attacks, which began on November 26, 2008 and targeted three luxury hotels, the city's main railway station, a popular tourist restaurant and a Jewish centre.

A total of 166 people were killed and more than 300 others were injured. Kasab was convicted at a special prison court in Mumbai earlier this month of waging war on India, murder, terrorist acts and conspiracy. He was sentenced to death.

The 100-minute film, which has also been touted as a warning that extremism achieves nothing, was previously called "Total Ten" after the 10 militants who arrived in Mumbai after hijacking a fishing boat in the Arabian Sea.

Problems finding a distributor delayed its release last year but those involved in the production say that 125 theatres have now agreed to screen the film and India's censors have given it a "U/A" certificate, meaning children under 12 must be accompanied by an adult.

Between 20 and 25 film titles relating to the attacks were registered with the Indian Motion Picture Producers' Association less than a month after the gunfire stopped.

Many of the proposed names focused on Mumbai's Taj Mahal Palace and Tower hotel, which was the focus of the siege and saw a 60-hour standoff and fierce fighting between four militants inside and crack commandos outside.

One Bollywood film-maker was seen touring the Taj with his son but he later denied he was looking to make a film on the subject amid a public outcry that movie producers were looking to cash in on grief.

India's Hindi-language film industry has previously made movies on real-life disasters. A similar flood of applications were received after the 2006 Mumbai commuter train blasts that killed more than 180 people. Four high-profile films eventually came out in 2008 -- "Black and White", "Aamir", "Mumbai Meri Jaan" (Mumbai My Life) and "A Wednesday" -- and were critically acclaimed.