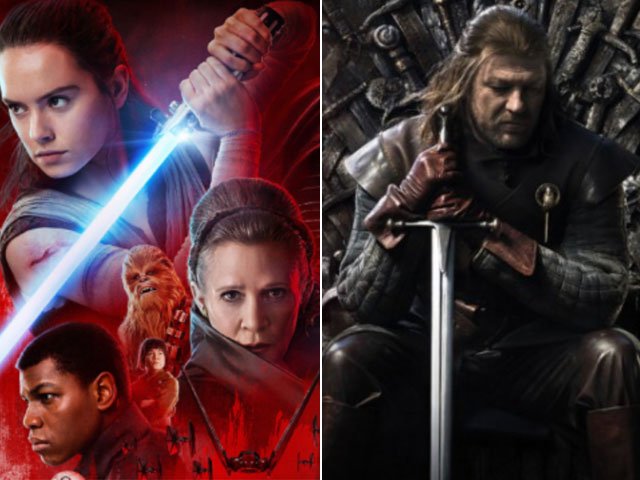 ---


Lucasfilm announced plans Tuesday for a new series of Star Wars films made by the team behind Game of Thrones, as it seeks to build on the lucrative sci-fi franchise.

David Benioff and D B Weiss, the creators of the smash-hit, Emmy Award-winning television series, will write and produce new films that are separate from the main Skywalker saga and the trilogy being developed by Rian Johnson, writer-director of Star Wars: The Last Jedi.

"David and Dan are some of the best storytellers working today," Kathleen Kennedy, president of Lucasfilm, said in a statement.




"Their command of complex characters, depth of story and richness of mythology will break new ground and boldly push Star Wars in ways I find incredibly exciting."

Benioff and Weiss released a joint statement saying they had been dreaming of traveling to "a galaxy far, far away" since seeing the original movie in 1977.




"We are honored by the opportunity, a little terrified by the responsibility, and so excited to get started as soon as the final season of Game of Thrones is complete," they said.

Lucasfilm did not say how many movies would comprise the new series or announce release dates.




Disney boss Bob Iger said when Johnson's trilogy was announced in November the Star Wars franchise had been "exceeding expectations" since the entertainment giant acquired Lucasfilm in 2012.

The two films from the main series under Disney's charge - The Force Awakens (2015) and The Last Jedi (2017) - are among the top ten highest grossing movies of all time, with $2 billion and $1.3 billion respectively.




Rogue One: A Star Wars Story (2016), the first of three scheduled spin-off movies, also made more than $1 billion, raising hopes for the success of the next, Solo: A Star Wars Story, which opens in May.

Good and evil

Californian film-maker George Lucas was 33 when he prepared to release his third feature - a far-fetched, slightly corny intergalactic saga of good and evil starring a sulky farm boy with daddy issues.

Star Wars has since grown into the most lucrative and influential movie franchise of all time, ingrained in a geek culture that gave rise to Silicon Valley and disruptive technologies.








The announcement sparked excitement - and some grumbling - among fans of Game of Thrones, one of the most popular and talked-about cable shows in history, which begins its final, six-episode season in 2019.

But not everyone was thrilled by the announcement, which once again underscored the lack of female or ethnic minority directors in the Star Wars universe, a marked contrast to the diversity Lucasfilm has promoted in front of camera.




"Still no sign of ever seeing any part of a galaxy long time ago and far, far away as conceived of by a woman or person of color," tweeted film executive Franklin Leonard, who founded The Black List, a yearly publication featuring Hollywood's most popular unproduced screenplays.

The announcement came as the Walt Disney Company issued its first earnings report since announcing six weeks ago that it would buy much of rival studio Fox's film and television assets in a $52 billion deal.

The California-based entertainment giant reported first-quarter earnings - up to December 30 - of $1.89 per share, a 22% on-year rise, and revenue of $15.4 billion, just shy of the $15.5 billion analysts had been predicting.

"We're excited about what lies ahead, with a robust film slate, the launch of our ESPN direct-to-consumer business, new investments in our theme parks, and our pending acquisition of Twenty-First Century Fox," said Iger.

Have something to add to the story? Share it in the comments below.