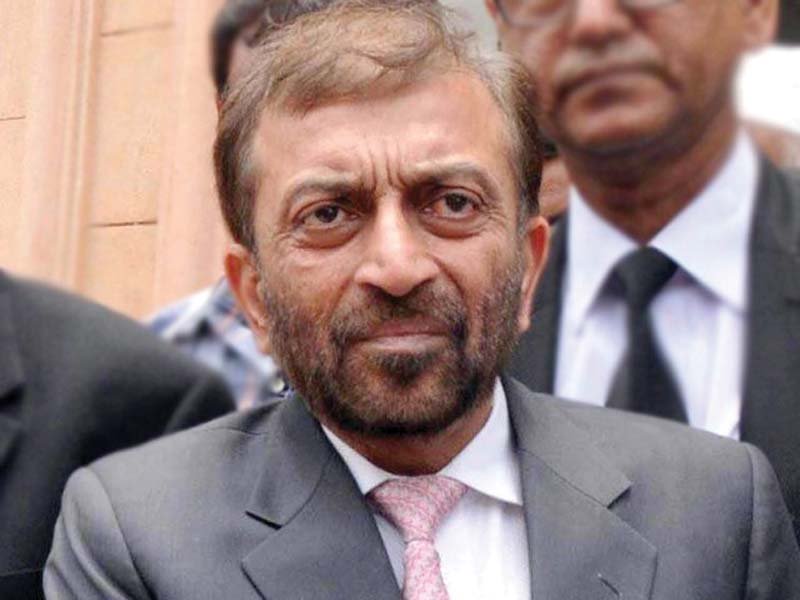 ---
KARACHI: Even after a passage of 24 hours, deadlock between MQM-P chief Farooq Sattar and the Rabita Committee members still persists.

Though Sattar announced that differences had been shunned, sources privy to the development stated otherwise.

"No one is willing to withdraw from their earlier stance. Sattar is in favour of giving the ticket to Kamran Tessori while all Rabita Committee members are against the decision," sources said.

Addressing party workers soon after the second meeting concluded at his residence in PIB Colony on Tuesday, Sattar said, "These Rabita Committee members are our brothers. There is no rift within the party, but only difference of opinion and that too not only on the Senate issue, but other serious issues as well."

There were no Rabita Committee members with Sattar when he was addressing the party workers.

"Some issues have been resolved and a few are pending for tomorrow. All Rabita Committee members have accepted my leadership, but they have some concerns that will be addressed soon," he added.

Rift in MQM-P over Senate election tickets

"Some issues have been resolved and a few are pending for tomorrow. All Rabita Committee members have accepted my leadership, but they have some concerns that will be addressed soon," he added.

In the middle of his speech, workers started chanting "our leader, our bhai, Farooq bhai Farooq bhai".

He said, "Some elements are laughing at us. We should not give them a chance to create a rift among us. I will inform you each and every thing we discussed in the meeting," he said. "I am chief of your party and the leadership should have the right to take a stand and make decisions. Let us meet tomorrow either in Bahadurabad or in PIB to resolve this issue," he said, while concluding his speech.

Differences within the MQM-P emerged on Monday after some leaders of the Rabita Committee led by Amir Khan, Kanwar Naveed Jameel and Dr Khalid Maqbool Siddiqui disagreed over the award of party tickets for the upcoming Senate election.  Some independent observers called it a coup to overthrow Sattar apparently because they were opposing his (Sattar's) decision to award party ticket to Kamran Tessori who recently joined MQM-P and rose to the position of deputy convener.

The leaders of both the factions claimed that for Senate polls the party had finalised four names - leaders Nasreen Jalil, Farogh Nasim, Aminul Haque and Shabbir Qaimkhani - while names of Kamran Tessori and Amir Khan were kept at numbers five and six, respectively; however, Sattar insisted on keeping Tessori's name in top four.

Following the heated arguments between Sattar and enraged leaders of the party, specially Amir Khan, the former left Bahadurabad office and later invited all elected representatives – senators, MNAs, MPAs, mayor, chairman, vice chairman, councilors – as well as the Tanzeemi members and workers of the MQM-P at his house in PIB Colony for an urgent meeting.

On the other hand, a few members of the Rabita Committee led by Amir Khan held a separate meeting without their party chief in which they decided to suspend the membership of the party's deputy convener Kamran Tessori for six months.  Tessori, a gold trader-turned-politician, who earlier worked with Pakistan Muslim League-Functional (PML-F), has supported MQM-Pakistan in many ways.

He reportedly has provided funds and helped the party in reopening two offices in Karachi.

Calling it an illegal decision, Sattar had said, "I am convener of the party and Rabita Committee members have no powers to make their own decision. I will not accept it." Sattar announced convening a party workers meeting at KMC Ground, PIB on Tuesday to make an important decision. "I will reveal important things in public meeting, which I have not earlier disclosed it," said Sattar. "I don't want to continue as dummy convener."

On the other hand, MQM Rabbita Committee members also summoned their meeting at Bahadurabad office where they decided to woo Sattar.  They nominated three members Sardar Ahmad, Rauf Siddiqui and Javed Hanif to resolve the issue and bring Sattar back to Bahadurabad.

But this effort could not resolve the intra-party differences.  The meeting that lasted for two hours ended without a breakthrough.  Soon after the negotiating team left for Bahadurabad, Sattar along with MNA Ali Raza Abidi and other leaders reached KMC ground and briefly addressed workers. The Rabita Committee members led by Amir Khan added more members to the negotiating team to woo Sattar. Amir Khan, Dr Khalid Maqbool, Kanwar Naveed Jameel, Faisal Subzwari, Nasreen Jalil, Khawaja Izharul Hasan and Wasim Akhtar too were included in the committee to reconcile with Sattar.

Looking at the situation, Sattar left the public meeting in the middle assuring participants that he would come back soon to give them important and good news.

Prior to the meeting, Subzwari, representing the Amir Khan group, said, "The delegation will try to sort out matters with the party chief."

Khan's group continues to exercise control of MQM sector office in Bahadurabad.  Aminul Haq has also allegedly sped up efforts to keep MQM-P's media committee from covering Sattar's activities.

The splinter group enjoys support from Karachi Mayor Waseem Akhtar as well as the chairmen of three of Karachi's six districts. District government officers were earlier reportedly directed to refrain from attending general workers' meeting in PIB.

During the controversy over nomination of Senate election, Sattar also wrote a letter to provincial election commission seeking nomination papers for 20 candidates of his group.

Meanwhile, sources further said workers are divided between Bahadurabad and PIB sectors, stating that MQM-P's district government officers and party workers are under extreme stress.