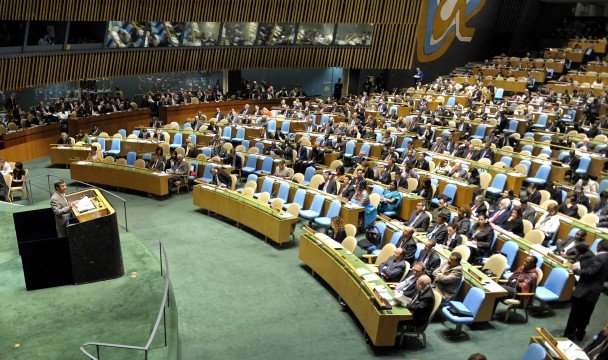 ---
UNITED NATIONS: Iran may escape censure at a meeting of the 189 signatories of a global anti-nuclear arms pact, despite growing concerns that Tehran might be developing atomic weapons, according to a draft declaration.

The United States and other countries say Iran is in breach of its obligations under the 1970 nuclear Non-Proliferation Treaty (NPT), a landmark arms-control pact that has been the focus of a month-long conference and review wrapping up this week.

A draft declaration prepared by conference president Libran Cabactulan of the Philippines fails to mention Iran or its nuclear program, though it names India, Pakistan and Israel as NPT holdouts. Diplomats said Iran had threatened to veto any final declaration if it was named.

The draft also names North Korea, which pulled out of the NPT several years ago.

Delegates say they hope a final version of the declaration, which calls for improved compliance with the treaty and further disarmament steps, can be agreed before the NPT conference ends on Friday. NPT decisions are made by consensus.

There is only an indirect reference to Iran in a paragraph of the 29-page draft declaration, obtained by Reuters, that says the NPT review conference "expresses its concerns with cases of noncompliance of the Treaty by States parties."

In February 2006, the governing board of the UN International Atomic Energy Agency (IAEA) adopted a resolution that referred Tehran's nuclear program to the Security Council due to what it said were "Iran's many failures and breaches of its obligations to comply with its NPT Safeguards Agreement."

Western officials say that IAEA resolution amounted to a finding of Iranian noncompliance with the NPT. Iran denies violating the NPT and says its nuclear program is peaceful.

The IAEA resolution also opened the door to three rounds of UN Security Council sanctions against Tehran for refusing to halt its uranium enrichment program. The council is currently negotiating a fourth round of sanctions against Tehran.

US, Egypt hope for Middle East deal

Ray Acheson of Reaching Critical Will, a nuclear disarmament group, said the Iranian delegation had insisted that if it were named, the United States and others should be as well for "serious noncompliance with Article I of the NPT."

Article I of the NPT obliges the five nuclear powers -- the United States, Britain, France, China and Russia -- not to transfer nuclear weapons technology to other countries.

Diplomats said the reference to Article I violations was a dig at Western support for Israel, which is presumed to have a sizable nuclear arsenal but neither confirms nor denies it.

The draft calls on NPT holdouts Israel, India and Pakistan to sign the treaty and allow UN inspectors to inspect their atomic facilities. It also says the conference "deplores" nuclear tests by North Korea, which left the NPT in 2003.

A deal on a declaration, Western envoys say, now hinges on whether Arab delegates are willing to compromise on a possible conference to discuss ways of making the Middle East a zone free of weapons of mass destruction. Such a plan could eventually force Israel to give up any atomic arms it has.

The draft calls for a conference on creating such a zone in 2012 to be organized by UN Secretary General Ban Ki-moon involving all states in the region. But diplomats said any language on this issue would be drafted by the Arabs in agreement with the five permanent Security Council members.

"If we can't get a Middle East deal, there will be no outcome document and we'll have another failure," a Western envoy said on condition of anonymity. "The Arabs have to decide whether they want something (on a WMD-free zone) Israel can participate in, or if they just want to beat up on Israel."

As the meeting enters its final days, diplomats are hoping to avoid a repeat of the last NPT review conference in 2005. That one failed due to Egypt's frustration at the lack of a deal to pressure Israel over its atomic program and developing nations' anger at the US repudiation of disarmament pledges.

Both Egypt and the United States are eager to avoid another failure. Cairo does not want to be labeled as a spoiler, while Washington wants an outcome that backs President Barack Obama's determination to move toward a world free of nuclear arms.
COMMENTS
Comments are moderated and generally will be posted if they are on-topic and not abusive.
For more information, please see our Comments FAQ