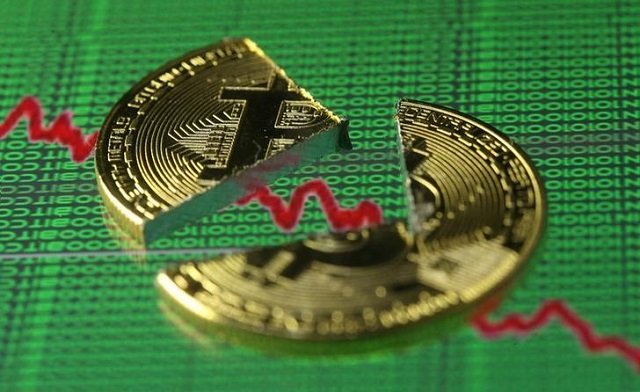 ---
Digital currency bitcoin BTC=BTSP fell more than 15 per cent on Monday to a nearly three-month low amid a slew of concerns ranging from a global regulatory clampdown to a ban on using credit cards to buy bitcoin by British and US banks.

On the Luxembourg-based Bitstamp exchange, bitcoin fell as low as $6,853.53 in early afternoon trading in New York. That marked a fall of more than half from a peak of almost $20,000 hit in December.

Bitcoin has fallen in six of the last eight trading session.

Lloyds Bank to ban credit card owners from buying cryptocurrencies

The currency, which surged more than 1,300 per cent last year, has lost about half its value so far in 2018, as more governments and banks signal their intention for a regulatory crackdown. Last week bitcoin suffered its worst weekly performance since 2013.

"We envisage this decline will continue, setting the next technical level at $5,000 a coin," said Miles Eakers, the chief market analyst at Centtrip, which specializes in foreign exchange, worldwide payments and treasury management.

Other cryptocurrencies also suffered double-digit declines on Monday, according to industry tracker Coinmarketcap.com.

Ethereum, the second largest virtual currency, was last down nearly 19 per cent at $703.40, while Ripple, the third largest, last traded at 71 cents, down 14.1 per cent.

British bank Lloyds Banking said on Sunday it was banning customers from using credit cards to buy bitcoin. It joined US banking giants JPMorgan Chase & Co and Citigroup, which announced similar bans on concerns the lenders could be held liable when the volatile currencies plunge in value.

On Monday, India said it was planning steps to make virtual currencies illegal within its payments system and to regulate the trading of crypto assets.

Bitcoin slumps below $10,000

"Cryptocurrencies have seriously fallen out of favor since the middle of December, and constant negative news flow and speculation of increased regulation has exacerbated the move lower," Craig Erlam, an analyst at currency broker Oanda, said.

The cryptocurrency sector has also attracted the spotlight after news of hacks and scams, including the roughly 58 billion yen ($532.9 million) stolen in digital money from Tokyo-based cryptocurrency exchange Coincheck two weeks ago.

But some investors were unfazed.

"Bitcoin has bounced back from similar collapses before during its short but volatile history, and it would hardly be a shock if those claiming the bubble has burst are surprised by yet another change in fortunes," said Dennis de Jong, managing director at online FX brokerage firm UFX.com in Limassol, Cyprus.
COMMENTS
Comments are moderated and generally will be posted if they are on-topic and not abusive.
For more information, please see our Comments FAQ