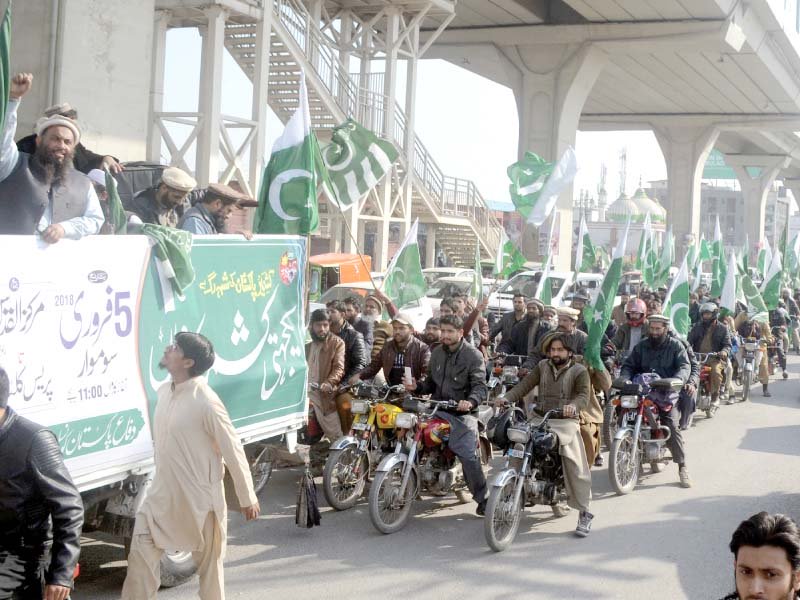 ---
ISLAMABAD: As Pakistan marked Kashmir Solidarity Day through seminars and rallies, it was punctuated by unprovoked cross-border firing from India, killing one in Rawalakot.

Pakistani forces, as is customary, gave a befitting reply to Indian forces and "silenced the Indian guns".

Later in the day, at a solidarity day event in the federal capital, the defence minister said that Islamabad retains the right to decide the measure and modicum of response to such violations.

Solidarity Day: 'Youth committed to revolution in Kashmir'

"Our commitment to abide by the cease-fire agreement is not a response limitation," Defence Minister Khurram Dastagir said at the Aiwan-e-Sadr.  "They [India] may have the right to start an [unprovoked] misadventure but the right to respond, at what level and with what magnitude will be reserved by us," he warned.

"It makes it incumbent on me to demand that there must be an international enquiry to determine the exact spectre of the crimes being committed by the Indian forces in Kashmir," reiterated the defence minister.

He added that Indian forces were clearly involved in crimes against humanity in occupied sections of the disputed Himalayan territory as he pointed to the story of massacres and mass graves, documents and other undisputed evidence available.

"The proposal by the Indian government to establish Sainik colonies for retired army personnel is unacceptable as this is an attempt to change the demography [of Jammu and Kashmir]. This along with the issuance of land to non-state Hindu industrialists is also a ploy to destroy the demographic and business makeup of Kashmiris," remarked Dastagir.

He added that the special powers granted to police and security forces in Indian occupied Kashmir to control agitation by carrying out raids, search and cordon operations  and numerous target killings were unacceptable.

Expressing solidarity with the people of Kashmir, Pakistan President Mamnoon Hussain stressed on a just and peaceful resolution of the Kashmir dispute on the basis UN National Security Council resolutions.

He urged the international community and United Nations to play their due role in redressing the plight of hapless Kashmiris.

Azad Jammu and Kashmir (AJK) President Sardar Masood Khan said that peace in South Asia was linked to the resolution of the Kashmir issue. He added Pakistan has always supported the Kashmir freedom movement at every national and international forum and it will continue to do so until the independence of Kashmir.

South Asia Strategic Stability Institute (SASSI) Director General Dr Maria Sultan said freedom means the supremacy of human rights everywhere.

"Our support goes to those who struggle to gain those rights and to keep them. Our strength is our unity of purpose. In the pursuit of this highest of ideals, there can be no outcome save victory," she remarked.

Former Interior Minister Rehman Malik presented a charge sheet against Indian Prime Minister Narendra Modi. He urged the government to prepare and file a case for war crimes against the Indian premier in the International Court of Justice.

Pakistan Tehrik-e-Insaf Central Information Secretary Shafqat Mehmood said that there can be no violent solution, no military might and no political oppression through un-constituent assemblies for the Indian occupied Kashmir that can determine the future of the Kashmiri people.

Rallies

A rally to mark the solidarity day was organized by the Muslim Institute in the capital. Protesters marched from Kalsoom Plaza to China Chowk in Blue Area where people different walks of life including activists, political and social sector, students, lawyers and journalists participated.

Participants of the rally carried placards and banners inscribed with slogans in favour of Kashmiris and condemning the state terrorism by Indian forces and messages urging the international community to play its due role and fulfil its pledges made to the Kashmiri people.

Speakers urged the global bodies, governments and rights organisations to play their role in stopping atrocities in IoK.

Events

Even as activists and people took to the streets to express their rage against Indian atrocities in Kashmir and to voice their support for the indigenous freedom movement in IoK, artists expressed themselves about the issue in the most artistic way — by performing their respective arts.

Cultural programmes were held at the Pakistan National Council of the Arts (PNCA) and the National Heritage Museum – Lok Virsa in collaboration with the Ministry of Kashmir Affairs.

At PNCA, a host of activities were held including a puppet show, a photography exhibition, a stage play and a cultural show to mark the solidarity day.

The special puppet show focused on the Kashmiri struggle for independence and it was attended by a large number of students along with their parents.

Kashmir Solidarity Day: President links peace to Kashmir resolution

The exhibition of photographs reflected Indian brutality in occupied Kashmir and presented visual narration of the struggle of Kashmiri people.  A play "laho Rang Kashmir" written by Khalid Majid was also performed.

At Lok Virsa, a day-long Kashmir Cultural Festival was held.

Kashmiri Artisans showcased their work in different crafts such as papier mache, embroidery, namda, gabba, and jewellery.

Members of Kashmiri community wore their traditional attire as young Kashmiri folk artists performed inspirational and national songs.

The Lok Khaba changed its menu for the day to include a number of traditional Kashmir dishes.

Published in The Express Tribune, February 6th, 2018.
COMMENTS
Comments are moderated and generally will be posted if they are on-topic and not abusive.
For more information, please see our Comments FAQ