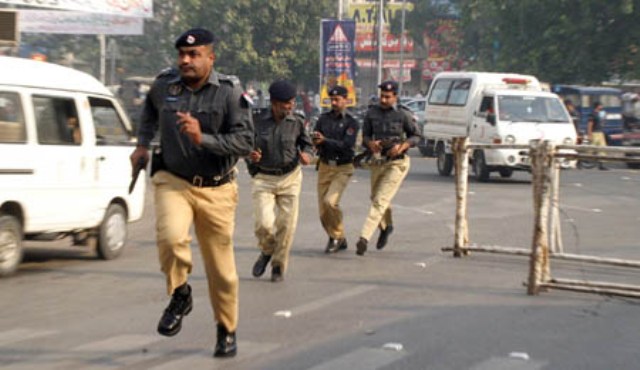 ---
LAHORE: Just to catch a glimpse of Pakistan Peoples Party (PPP) Chairman Asif Ali Zardari some youths tried to hang onto a billboard, but it fell down, injuring around 15 participants of the public gathering at Mochi Gate on Monday.

Rescue teams rushed to the spot and shifted victims to the Government Nawaz Sharif Hospital, where their condition was stated to be stable.

Meanwhile, Lahore Police had devised a strict security plan for the security of PPP public gathering. SP City Ali Raza said that a four-layered security plan was prepared after consultative meetings with senior police officers and party leadership.

According to the plan, at least 1600 police officials under the supervision of 71 upper ordinates, 16 SHOs, eight DSPs and four SPs.

At the event, every participant was allowed to enter after being checked at three points -  physical frisking, checking with metal detectors and passing through the walk-through gates. The entry and exit points to the procession were closed with containers, barbed wires and tents.

DIG Operations Dr Haider Ashraf said that a control room was also set up at Mochi Gate police station for surveillance of the event. The CCTV cameras installed by the Punjab Safe Cities Authority also helped Lahore police in monitoring the situation.

Dr Ashraf said that a search and sweep operation was conducted before the start of the meeting. The site was cleared by sniffer dogs and experts of Special Branch and Bomb Disposal Squad. Moreover, officials of Special Security Unit (SSU) were also deployed in order to ensure the security of the stage.

A separate place was specified for women, which was guarded by female police officers. Men in civies were also on duty at the public gathering to keep an eye on any suspicious persons or activity. Female constables were on duty and snipers were deployed at nearby vintage points.

Teams of Police Response Unit (PRU) and Dolphin Squad also remained on patrolling in nearby areas to respond immediately in case of any emergency.

As far traffic arrangements were concerned, parking points were specified for vehicles at entry points. At least 365 traffic wardens and six fork-lifters were on duty to maintain traffic under the supervision of 16 patrolling officers, 19 inspectors, three DSPs and an SP.

A separate route was also specified for ambulances. Diversions were set up on roads leading towards the procession site. According to the plan, the road from Azadi Chowk to Data Darbar remained opened for every kind of traffic.

Published in The Express Tribune, February 6th, 2018.
COMMENTS
Comments are moderated and generally will be posted if they are on-topic and not abusive.
For more information, please see our Comments FAQ