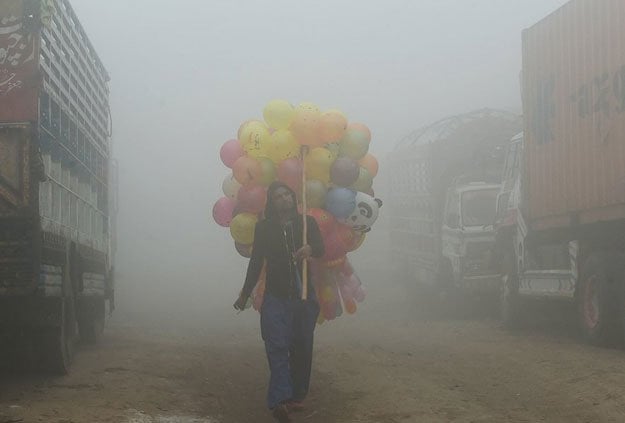 ---
LAHORE: Lahore, a city where smog has become a 'fifth season', has the worst air quality, with only two days of good air quality recorded in 2017, according to data revealed by Pakistan Air Quality Initiative (PAQI).

Statistics recorded by air quality monitors revealed dangerous levels of air pollution in all major cities of Pakistan, with Lahore exceeding the safety limit by nine times.




PAQI – a community driven project that provides public access to local air quality - held an awareness talk on Lahore's smog crisis at Hast-o-Neest Institute of Traditional Studies & Arts in Gulberg on January 28, 2018.

Statistically smog kills more people than militancy in Pakistan

The public health hazard originates from crop burning, coal combustion, diesel and industrial emissions. Dangerous particulates are trapped within the temperature inversion layer close to the ground. This build-up of pollutants becomes a health concern during winters. Citizens are advised to keep exposure to toxic air to a minimum.

A study conducted in Karachi found direct correlation between air pollution and hospital admission rates. "My four year-old has been advised by her doctor to stay indoors and avoid outdoor exercises," said Mrs Buzdar, a concerned mother at the awareness talk whose daughter wore an anti-pollution mask throughout the session.

"At times, my daughter has to skip school due to bad air quality."

Moreover, air pollution has a damaging effect on the country's economy. More than 5.88 per cent of the country's Gross Domestic Product (GDP), or $47.8 billion, are spent as the economic cost of air pollution in Pakistan.

Smog is a crisis in Pakistan



Air quality in Pakistan exceeds safe limits in all major cities, with Lahore 9x worse than national guidelines (PAQI data).


135,000 deaths per year are attributed to ambient air pollution, making it the leading cause of sickness and death in Pakistan, as well as reduced life expectancy by 60 months. Smog is a public health emergency.


5.88% of GDP or $47.8 billion is the estimated economic burden of air pollution in Pakistan. Urgent action on air pollution makes economic sense.



Air pollution causes serious health problems, including respiratory failures, lung and heart diseases. It reduces life expectancy by 60 months and leads to almost 135,000 deaths every year, making it the leading cause of sickness in the country.




Biology

Air pollution is the result of a complex mixture of gases and particles. Atmospheric particulate matter (PM) is the major source of contamination and related health problems. PM10 – relatively larger air particulates – cause respiratory problems, such as lung infections and asthma. The finer PM2.5 particulates, on the other hand, severely damage heart function by entering the airways and pulmonary vein.

These particles contain traces of poisonous metals such as copper, magnesium, zinc, selenium and arsenic. They also become a cause of cancer and lead to genetic problems for future generations.

A policy issue?

Sara Belal, Lahore-based lawyer and Director at Justice Project Pakistan (JPP), shared that Lahore High Court has constituted a 10-member commission to come up with policy recommendations for this public health emergency. "This is the time to reach out to the government to enable better decision-making through capacity building," she adds.

Citizens' rights

Minja Kim, an activist and South Korean citizen based in Lahore, claims that citizens have the right to demand clean air. "Data forms the basis of community activism," she says.

Pakistan as much to blame for smog as India

"I was surprised by the bad air quality and lack of awareness when I came to Pakistan."

According to the Global Air Report by HEI, South Korea is the second advanced nation to have the worst air quality. Independent citizens push governments for stricter actions. Thanks to citizen action, the "Regardless of where you live, you have the right to clean air. If no one protects your rights, you need to ask for it!"

This article originally appeared on Medium and has been republished with permission of the author


COMMENTS
Comments are moderated and generally will be posted if they are on-topic and not abusive.
For more information, please see our Comments FAQ