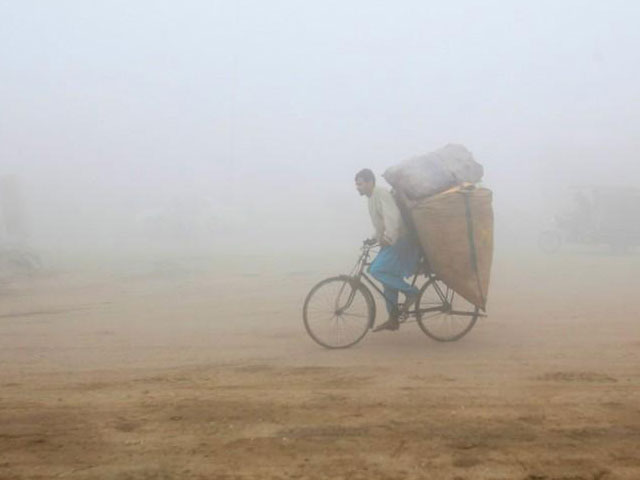 ---
On October 20, 2017, when NASA shared a GIS imagery of agricultural fires cluster in India, it showed how massive were the fires set to their fields by hundreds of thousands of farmers in the nearby states of Punjab and Haryana. Gradually, the entire Punjab in Pakistan and parts of Khyber Pakhtunkhwa (K-P) were engulfed in thick smog.




We wasted no time to blame India for causing smog on our side of the border and took the issue on the national media. However, the most important question that remains unanswered is whether or not India can be held entirely responsible for causing smog in Pakistan?

Threatened by smog, Pakistan seeks China's helping hand

Even for a minute, if we assume that India created the smog situation in Pakistan, we may also have to assume that all is going well in Pakistan, which means that we have a healthy forest cover (which we do not), there is no construction dust produced by mega projects in Lahore and elsewhere (of course there is), there are very few smoke emitting factories (but there are many), very few people travel on cars and in fact, most of them use the rapid mass transit systems (it is quite the opposite), the country is self-reliant on renewable energy (not at all as we are already in love with coal), and so on and so forth.

Are we sure?

Abid Omer, Head of Pakistan Air Quality Initiative (PAQI) says the responsibility to curb air pollution is shared equally, as the same poor farmers are on both sides of the border (between Pakistan and India).

"To lay the blame on India is sidestepping the issue," he says and added, "crop burning is a factor contributing to smog in Pakistan, emissions from factories, vehicles, brick kilns, steel mills and power plants are other contributing factors as well."

The 24-hour average value of PM2.5, according to the National Environmental Quality Standards (NEQS) should be maximum 35 microgrammes per cubic metre (ug/m3).




PAQI data reveals that in Upper Mall Lahore, PM2.5 was found to be 577, 545, 622 and 368 ug/m3 on November 4, 11, 12 and 14 this year respectively, which was 10 to 18 times above the NEQS limits. In Peshawar, PM2.5 was 259, 231, 219 ug/m3 individually on November 10, 11 and 12 this year, which was again six to seven times more than the NEQS limits. While in Karachi, PM2.5 was 142 ug/m3 on November 6, 2017, which was four times more than the NEQS standards.

Statistically smog kills more people than militancy in Pakistan

Omer says the exposure to polluted air for 24 hours is equivalent to smoking 10 to 15 cigarettes a day.

The smog policy

The government of Punjab has finally made a smog policy to deal with the burning issue. Naseemur Rehman, the director of the Environment Protection Department (EPD), says a rise in the number of vehicles leading to traffic congestion has become a big problem.

"The industries are also contributing to the issue along with brick kilns, crop burning, setting trash on fire, load shedding leading to use of generators etc," he complains.

The director says that the Punjab government has taken several measurements to fight the issue including shutting down around 250 smoke-emitting factories.

"Section-144 has been imposed on burning crops, solid and hospital wastes, while an action is being taken against polluting two-stroke rickshaws with the establishment of a vehicle testing system in Lahore and other districts. An awareness campaign for farmers on the burning of crops residue is being planned."




Rehman adds, "Punjab has asked the ministry of climate change to take up the matter with India so that stubble burning can be stopped on the other side of the border."

However, he disagreed with the high levels of PM2.5 and PM10, highlighted by other private air monitoring labs and suggested the labs to get their devices calibrated by the EPD.

CM Punjab asks India to form concrete smog policy

Chief Justice Lahore High Court (LHC) Syed Mansoor Ali Shah has ordered that a revised smog policy spelling out actions, items and the declaration of the public health emergency be submitted to the court within three months. The revised policy will assign a role to the health department and to the school education department. The court noted that though the health department has been publishing health advisory warnings in the national dailies, no research was carried out regarding the effects of smog on health and the advertisements were placed on their general understanding.

With Pakistan spending millions in advertisements to blame India for exacerbating smog in its country, the Indian air pollution experts also do not seem to be happy with the entire situation. Pallavi Pant is one of them.

A postdoctoral research associate at the department of environmental health in the University of Massachusetts, Pant believes, "It will not be correct to put the blame entirely on India as the current smog episode (in Pakistan) can also be due to stubble burning and adverse meteorological conditions".




"Crop burning in both the Punjabs (Pakistani and Indian) can potentially contribute to smog in the cities on both sides, and the problem can be exacerbated by poor wind speeds, and local sources. Careful analysis of the data, including weather patterns, satellite data and local sources of air pollution is required in order to make a thoughtful assessment of the role of crop burning in the current smog episode," she explains.

"We definitely need regional action on air pollution in South Asia," she continues, "Air pollution does not respect borders and to deal with the problem effectively, we need to come up with integrated policy solutions," Pant says.

CM Punjab asks India to form concrete smog policy

Environmental lawyer Rafay Alam, while sharing his views on the smog policy says, "For any policy, it is important to have data and the EPD should have focused on gathering data of at least the last year's smog after working with relevant departments."

The EPA should install air-quality metres in every district. Currently, there are only five ambient air-quality measurement stations in Lahore and they are not enough for the city, let alone for the 36 districts of Punjab, said Alam.

When asked if India is responsible for the smog condition in Pakistan, he stresses, "You cannot put the blame on India when you do not know the source apportionment. Pollution from India is one thing and its solution is trans-boundary collaboration. The federal government must reach out to the Indian states Haryana and Punjab to deliberate on the matter," he insists.




Nevertheless, meteorological experts look at the matter differently. Being the lead author of Pakistan's National Climate Change Policy, Dr Qamaruz Zaman Chaudhry blames the adverse climatic conditions and its change for smog that lead to extended dry spell over the last five to 10 years in Pakistan.

"After August, there was no weather system in Pakistan. The atmosphere became highly stable and stagnant, especially in the lower atmosphere, where the smoke had accumulated being unable to reach the upper atmosphere. To clear out the system, rainfall w'as direly needed which finally happen on November 14. But, the situation can again get worse if the meteorological conditions return to their previous state," he explains.

Indian capital choked by smog as emergency measures fail to offer respite

Over the need to improve the urban forest cover of cities such as Lahore, Gujranwala and Faisalabad, CEO South Punjab Forest Company (SPFC) says, "Trees not only help to remove carbon dioxide from the atmosphere but also some of the polluting gases," says Tahir Rasheed and emphasises to conserve fully grown trees.

He says, "In a long-run, improving urban forest cover can help to address smog. Cities should develop vertically and not horizontally so that green spaces are not paved over. Since the survival of young saplings is also a challenge in urban setup due to air pollution, utmost efforts should be made to conserve the existing urban forests and to plant the young saplings alongside. The selection of appropriate species is also important as some are helpful to control air pollution, whereas some monitor the level of pollution in urban areas."

A World Bank (WB) 2014 report has warned that urban air pollution in Pakistan is among the most severe, with pollution in Lahore having high levels of PM2.5 ranging from 2-14 times more than the limit described by United Nations Environmental Protection Agency Limits (ESEPA). The report highlights that the number of vehicles in Pakistan has jumped from approximately 2 million to 10.6 million over the last 20 years while the number of motorcycles and scooters grew more than 450 per cent from 1991 to 2012.




Farzana Anees, Senior Media Officer at Gulab Devi Chest Hospital says, "The smog has mostly affected patients with asthma and respiratory issues. Before the rainfall, when smog concentration was high, people also had throat and lung infections, severe coughing and eye irritation."

According to her, keeping the doors and windows shut in such conditions is important. "One can also buy air-purifiers. However, when going outside, N95-rated air quality masks should be used."

Satellite image shows magnitude of smog caused by aerosol pollution in Pakistan

A report, 'Atmospheric emissions and pollution from the coal-fired thermal power plants in India', reveals says that the Indian states of Haryana and Punjab produced 23,500 tonnes and 16,500 tonnes of PM2.5 during 2010 which indicates that the evil of air pollution took years in the making and possibly a major reason for causing smog on the other side of the border.

The international 'No Harm Principle' of the state's responsibility to ensure that its activities within its control do not damage the environment of other states or of areas beyond the limits of the national jurisdiction, makes it mandatory for India to ensure its unsustainable developments do not affect Pakistan. However, while proving its point, Pakistan should share figures that the arch-rival is behind the environmental chaos.



Syed Muhammad Abubakar is an international award-winning environmental writer with an interest in climate change, deforestation, food security and sustainable development. He tweets @SyedMAbubakar
COMMENTS
Comments are moderated and generally will be posted if they are on-topic and not abusive.
For more information, please see our Comments FAQ