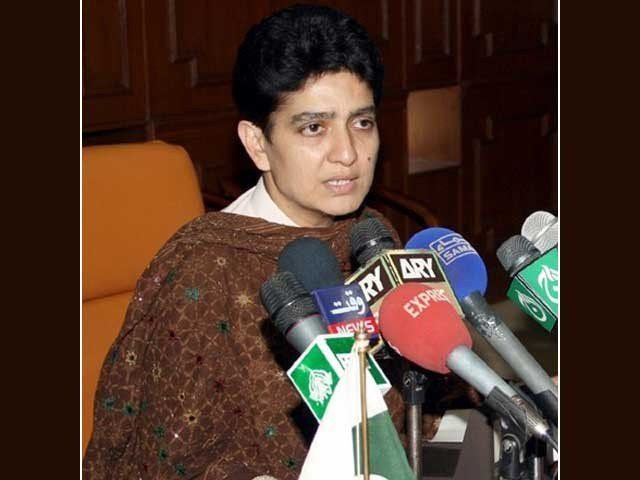 ---
ISLAMABAD: Many laws have been enacted in the country to safeguard the rights of women, but the authorities have failed to implement these with full force.

"There is lack of implementation of laws protecting women rights in the society," Balochistan Assembly Speaker Rahila Durani said at a conference held at International Islamic University (IIU).

Among many issues women face, one was child marriage, Durrani said. "A bill is being presented in the assembly to prevent pre-mature marriages," she told the moot organised by the Iqbal Research Institute (IRI) of IIUI. The conference was organised to evaluate the role of women in countering the ideologies of terrorism and extremism with the help of Paigham-e-Pakistan narrative.

The anti-terrorism and anti-extremism narrative had been presented by IIUI with the signature of hundreds of religious scholars last month.

Speakers at the national seminar resolved that a peaceful dialogue in the light of Islamic education was mandatory for the elimination of terrorism, extremism from the society and women could play a vital role in this regard.

The women speakers including parliamentarians and representatives of Wafaq-ul-Madaris (federation of religious seminaries) also resolved that women could play an important role in building of a society, a press release Friday said.

Council of Islamic Ideology Chairman Dr Qibla Ayaz presented the recommendations at the seminar titled 'Role of Dukhtaran e Pakistan in Reconciliation and Peace Building in Continuation with Paigham-e-Pakistan' held at Faisal Masjid Campus.

Participants maintained that the recommendation points would be sent to lawmakers.

In the four panel discussion sessions, speakers said role of media was important for highlighting the issues of women and children and special programmes should be organised in this regard. The resolutions also said national educational curriculum should be prepared according to the modern needs.

IIUI Rector Dr Masoom Yasinzai stressed the need for imparting modern education based on critical thinking and characterization integrated with the blend of Islamic character.

He said there was no place for terrorism in Islam and added that IIUI took the responsibility to provide a narrative to the nation to remain clear about Islam, its teachings and dissemination of message of peace.

He urged for the promotion of the attitude of peaceful co-existence.

IIUI President Dr Yousif al Draiweesh said Islam was the only religion which gives complete rights to women. He called upon the Muslim societies to practice and provide the rights to women guaranteed by Islam.

University was keen for women empowerment and as 14,000 women were getting quality education.

He said the number of female students was more than male students at the university.

Seminar was also joined by Khalid Iqbal Jhagra, IIUI women campus Director Dr Farkhanda Zia, Wifaqul Madaris representatives Asma Baig, Naber Andleeb, Razia Madni, Tayyeba Khanum, Durdana Sidiqui and MNAs Farhana Qamar, Shazia Sobia, Romeena Alam and Huma Chughtai.

Published in The Express Tribune, February 3rd, 2018.
COMMENTS
Comments are moderated and generally will be posted if they are on-topic and not abusive.
For more information, please see our Comments FAQ