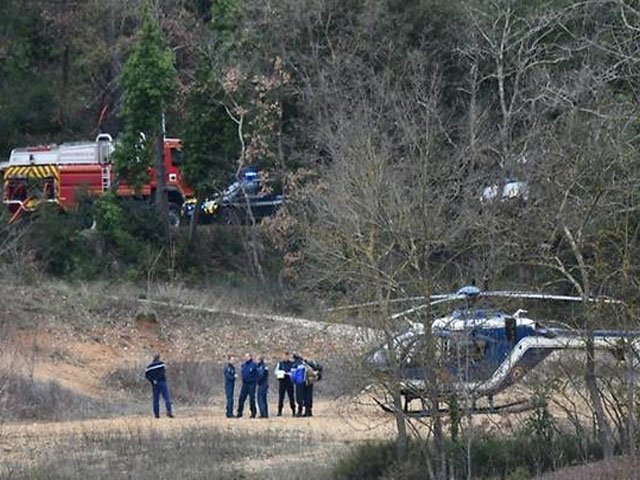 ---
CABASSE, FRANCE: Five people were killed Friday after two army training helicopters crashed into each other near a lake in southern France, police said, one of the deadliest such accidents involving the country's armed forces in recent years.

The collision took place at around 8:30 am (0730 GMT) near the lake of Carces, about 50 kilometres (30 miles) northwest of the resort of Saint-Tropez.

"The helicopters collided. There were three army personnel in one and two in the other. All are dead," police said in the nearby town of Brignoles.

US Army helicopter crash in California kills 2 soldiers: official

The cause of the collision was still unclear.

All the people on board were officers, a source close to the inquiry said.

"One of the helicopters broke up and crashed onto a road, the second crashed about 150 to 200 metres away and burned," said Jean-Luc Videlaine, prefect of the Var region.

The Gazelle helicopters from the army's light aviation division were based at a flight school in Cannet-des-Maures.

Two police helicopters were still searching the crash scene shortly after midday, while rescue services had blocked access to a forest road near the lake, according to an AFP journalist.

Defence Minister Florence Parly, who was en route to the site and the training base, expressed "great sadness" in a Twitter post, while President Emmanuel Macron hailed the "commitment of these officers who were preparing themselves for future missions."

The French-made Gazelle helicopters entered service in the 1970s, and are used for reconnaissance and light attacks as well as training.

The aircraft were part of the French army's EALAT light-aircraft training school.

More than two dozen Gazelles are stationed in Cannet des Maures, along with Fennec and Puma choppers.

A local councillor, Jean-Pierre Veran, said helicopters "regularly" fly over the zone and there had never been an accident, calling it a "terrible shock" with debris spread over a large area.

Army chief-of-staff Jean-Pierre Bosser expressed his "solidarity with the family and friends of the victims, as well as their comrades" at the training facility.

The last major aviation accident involving the security forces in France took place in May 2016, when a police helicopter crashed near Cauterets in the Pyrenees mountains, killing four on board.

An investigation later determined it was caused by pilot error.