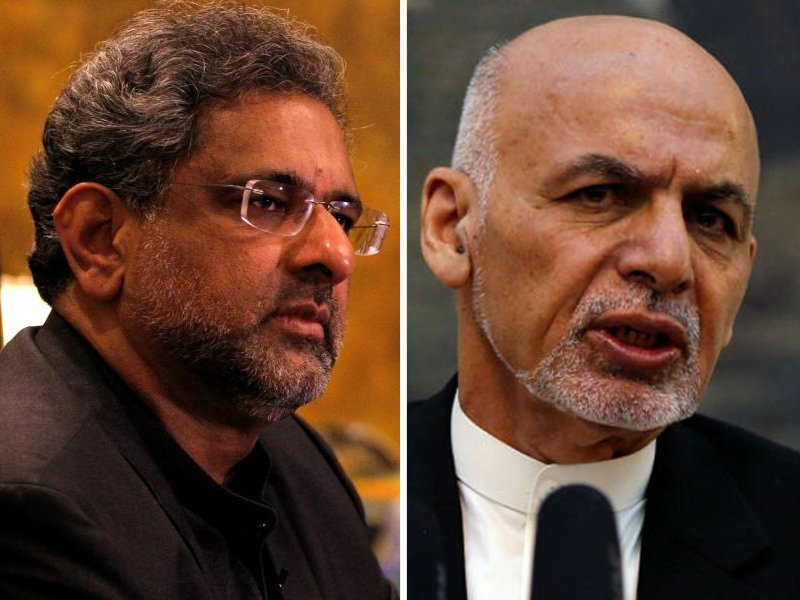 ---
ISLAMABAD: A high-level Afghan delegation held crucial talks with Prime Minister Shahid Khaqan Abbasi and senior military and intelligence officials on Wednesday amid renewed tensions between the two neighbors following the string of recent terrorist attacks in Kabul.

Afghan President Ashraf Ghani dispatched his country's Interior Minister Wais Ahmad Barmak and National Directorate of Security (NDS) chief Masoom Stanekzai to Islamabad to present what the Afghan media claims 'documentary evidence' linking groups and individuals allegedly based in Pakistan to the recent violence in Kabul.

Pakistan seeks 'credible' Afghan peace initiative

The Afghan delegation held late-night talks with the prime minister, who was assisted by the DG ISI, the foreign secretary and other senior officials. Both sides, however, said nothing about the huddle till the filing of this report.

Officials in the Prime Minister Office as well as the foreign ministry were tightlipped, insisting that they were strictly ordered not to speak to the media about the discussions.

The unannounced visit came against the backdrop of a sudden spike in violence in Kabul with reports suggesting that Afghan Taliban are gradually stretching their influence in Afghanistan.

However, Afghanistan once again pointed a finger at Pakistan for being behind the recent upsurge in terrorist attacks. Afghan media even claimed that President Ghani refused to take a condolence call from the Pakistan's prime minister as protest.

Afghan Ambassador Dr Omar Zakhilwal, nevertheless, dismissed the media reports and said Ghani sent the high-powered delegation to deliver a message to Prime Minister Abbasi.

Ahead of the visit, Pakistan on Tuesday disclosed that it had handed over 27 suspected members of the Afghan Taliban and Haqqani network to Afghanistan in November last year.

The timing of the release of this information was seen as significant and was apparently aimed at sending a message that Pakistan was not behind the insurgency in Afghanistan.

Afghan president refuses condolence call from PM Abbasi

However, the Afghan ambassador expressed his surprise and said he was not aware of any transfer.

"This certainly is news to me! It would be a huge step forward in our important bilateral relations if this indeed happens," Zakhilwal said in a tweet.

There was no immediate reaction from Pakistan to the Afghan envoy's apparent denial of extradition of 27 individuals linked to Afghan Taliban and Haqqani Network.

Meanwhile, a high-level Pakistani delegation comprising the foreign secretary and senior military and intelligence officials is expected to travel to Kabul at the weekend to discuss the thorny issues between the two countries.

Relations between Pakistan and Afghanistan have been tense for months with each side accusing the other for lack of action against certain militant outfits on their respective soils.