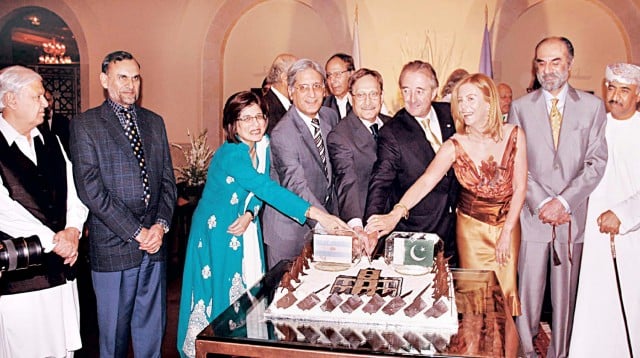 ---
ISLAMABAD: A reception was hosted by Argentina's Ambassador to Pakistan, Rodolfo J Martin- Saravia, in Islamabad on Tuesday evening at a local hotel.

This was to celebrate the completion of 200 years since Argentina won its independence from Spain. A Pakistan Navy music band played national anthems of both Pakistan and Argentina along with various other compositions, while Ambassador Rodolfo and his wife, Susan, welcomed the guests. The ambassador's friends, federal and state ministers, members National Assembly, prominent politicians, artists, diplomats and journalists attended the function.

The evening started with a speech by Ambassador Rodolfo, where he narrated a brief history of Argentina and went on to discuss the amicable relationship the two countries have had since 1951, when diplomatic channels were established between Argentina and Pakistan. The highlight of the evening was a selection of photographs taken in Gilgit-Baltistan. The compilation's title, suggested by the ambassador himself, was "Pakistan seen through Argentinian eyes". "This is exactly how we Argentines see Pakistan - very beautiful, complex [and] welcoming," Ambassador Rodolfo explained.

The ambassador has been in Pakistan for six years now and is not planning to go back to Argentina. "Believe me I have no intention of going back," he quipped. Later, an anniversary cake, featuring flags of Pakistan and Argentina, was cut. Argentina sent its first diplomat to Pakistan on January 19, 1948, five months and four days after the country won its independence. Diplomatic relations between the two countries were established on October 15, 1951 and the Argentine Embassy was established in Karachi 14 days later on October 29, 1951.

Published  in the Express Tribune, May 26th, 2010.
COMMENTS (3)
Comments are moderated and generally will be posted if they are on-topic and not abusive.
For more information, please see our Comments FAQ