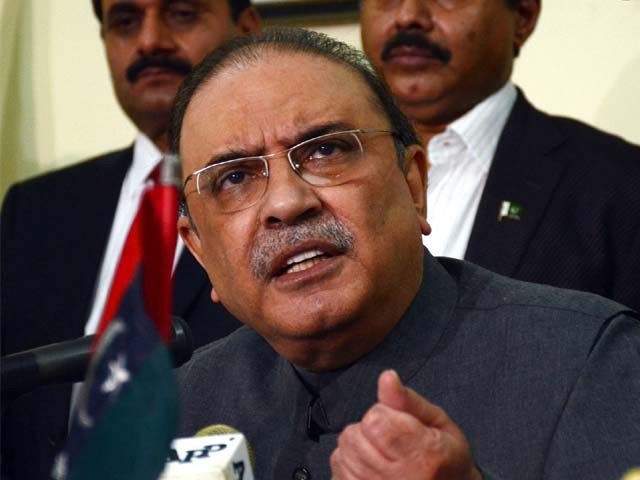 ---
TAUNSA: Pakistan Peoples Party (PPP) co-chairperson, Asif Ali Zardari on Tuesday said Nawaz Sharif is politicking to gain popularity and to win the sympathy of people.

"Nawaz is pretending to be oppressed in front of the nation," he said addressing at Taunsa Sharif in District Dera Ghazi Khan.

"When Nawaz Sharif appears in court, six vehicles of protocol lead him and six vehicles follow him but he still thinks he is oppressed, what kind of oppression is this?" questioned Asif Ali Zardari.

"The government is theirs, chief minister is theirs, prime minister is theirs but they still consider themselves oppressed," he further added saying that people who are brought up in courts in armored vehicles are oppressed.

He said that PPP has always confronted cases during their term of government. "In my cases, dictations of Saifur Rahman were followed."

Appreciating the workers of PPP, he said that workers and members PPP had always helped their leaders in good and in bad times.

The PPP leader said that PML-N inaugurates only those projects that neither have a start nor end. Zardari said that the PML-N does not understand the actual worth of CPEC.

PPP manoeuvres draw PML-N, PTI ire

He said that PML-N only gives funds to its own MNAs because of its narrow-mindedness and that the budget of Chauhdry Nisar was more than of his own MNAs.

He said that only PPP can bring back the looted money transferred outside through money laundering. He demanded that case of Shehbaz Sharif in which he spoke with the judge should also be opened.

Zardari, in his address, said that there was a huge difference between Lahore and South Punjab. He said that South Punjab would become a separate province as per the demand of this region. Zardari said that during the era of PPP, many development works were done in south Punjab.

He said that efforts were underway to include Zulfiqar Khosa in Pakistan Peoples Party and PPP hopes that elections would be held on time.
COMMENTS
Comments are moderated and generally will be posted if they are on-topic and not abusive.
For more information, please see our Comments FAQ