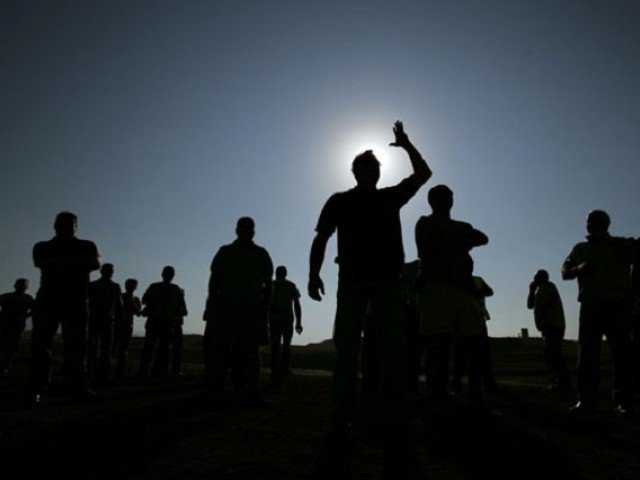 ---
HYDERABAD: A group of civil society activists has appealed to the Supreme Court to take suo motu notice of the killings of two traders in Tharparkar, a union council (UC) chairman and his two sons in Dadu district and other crimes in Sindh.

At a press conference in Hyderabad on Friday, the activists contended that the rule of law and supremacy of the Constitution were weakening in Sindh as the general elections drew closer.

"A sense of insecurity is growing among the citizens," said Suleman G Abro of the Sindh Agriculture Forest Workers Coordination Organisation, who was accompanied by Zulfiqar Halepoto, Advocate Ali Palh, Iqbal Nizamani, Razzaq Umrani and others. He claimed that extrajudicial killings, murders, violence against women and children, assault on peaceful political and social protests and robberies have suddenly increased in the province.

Killing of LG representative: Civil society demands inquiry, arrest of killers in Dadu

Two brothers, Dilip Kumar Maheshwari and Chandar Kumar Maheshwari, were shot dead during a robbery in Mithi, Tharparkar district, on January 5. UC Chaiman Karamullah Chandio and his two sons were killed in Mehar, Dadu district, on January 17. The assailants in the former incident have yet to be identified and those booked in the latter escaped arrest despite being nominated in the FIR as one of them is a sitting MPA.

The activists lamented that despite an order by Sindh Inspector-General Allah Dino Khawaja, former Malir SSP Rao Anwar has yet to be arrested in the case of Naqeebullah Mehsud's killing in a dubious encounter.

"The police and government authorities don't appear to be on the same page," said Abro.

Saudi Arabia jails two human rights defenders: Amnesty

The petitioners argued that the Pakistan Peoples Party-led Sindh government is exercising political control over the police. "Policemen don't listen to their chief [IG Khawaja] and only follow the provincial government's directives," accused Halepoto. The activists said the crisis has affected the writ and credibility of the police force.

They also blamed the provincial government for discrimination between the victims of crimes in Karachi and the rest of Sindh. They claimed that the Maheshwari, Chandio and other families of victims in rural Sindh have not received the same level of cooperation from the provincial government as the families of Mehsud and Intizar Ahmed, who was shot dead in an encounter in Karachi.
COMMENTS
Comments are moderated and generally will be posted if they are on-topic and not abusive.
For more information, please see our Comments FAQ