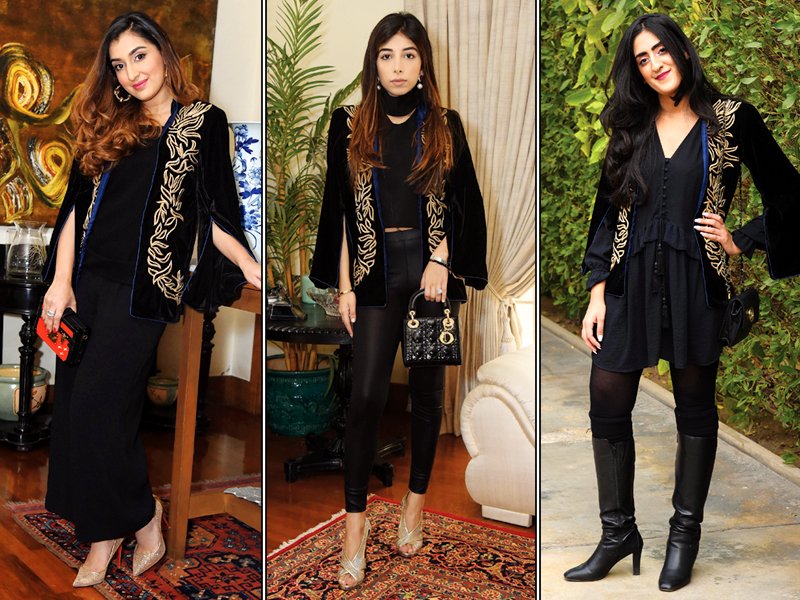 ---
While trends fade, style remains eternal and one piece can be put together in many different ways. In this feature we have three fashionistas showing us how to put together an item from a designer's collection, according to their own individual style and taste!


T his velvet cape by Nadia Khan is perfect for all your winter soirées and is proof that velvet is here to stay. This uber stylish cape has a trendy silhouette and can easily be taken from day to night with a switch of pants and top!

Ayesha Jatoi




Law student

Absolutely loved styling this trendy cape! It's such a versatile piece that can easily be dressed up or down. I decided to go for an all-black evening look, pairing the cape with a classic mini Lady Dior bag and gold heels — perfect for a winter night out in Karachi!

Hira Javeri




Creative/Designer at Ali Javeri Jewelers

The trending material we were in love with last season is officially making its grand return; velvet. And because velvet is a trend in itself, mixing the fabric with timeless black or navy is a foolproof option. I paired this velvet jacket with a basic black dress from Réalisation Par, my Dolce Vita knee high boots and a Chanel classic flap bag! Keeping my overall look relatively neutral and clean, I tried to emphasise on the less is more approach to this bold jacket!

Malaika Hasan




Business Development Executive, National Foods Ltd

I've always found the black and gold combination very regal and perfect for evenings so my look was centered around wearing this gorgeous velvet cape for a dinner. I paired it with black straight cut trousers and jazzed it up with dull gold earrings from Ali Javeri Jewelers. I decided to go for an outward curly blow dry as I love a lot of volume in my hair for my evening look. My make-up was in gold and bronze hues with a lipstick to match my clutch. I finished my look with my all-time favourite gold net Louboutins and a red Louis Vuitton Petite Malle to add a pop of colour.