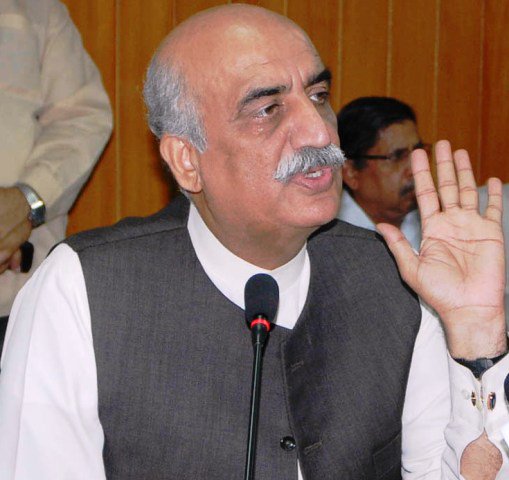 ---
Leader of the Opposition, Khursheed Ahmed Shah on Wednesday expressed rage over Punjab Chief Minister Shehbaz Sharif's applause on finding the murderer of eight-year-old Zainab.

In the National Assembly session, Shah said that Shehbaz is not a politician but a 'showman'. He applauded after the culprit was caught and that must have triggered the parents of deceased Zainab, he should be ashamed of himself for such behavior.

"Shehbaz has no sense of morals, the 'king' was clapping unconscionably. No doubt it is commendable that the murderer was caught but it doesn't warrant someone to start clapping in front of the bereaved parents," he remarked.

Zainab's murderer should be hanged publicly: Shehbaz Sharif

Khursheed Shah said that the nation is embarrassed over Kasur case and the parliament must take note of this, it's a matter of human rights.

"Whoever watched Shehbaz's conference yesterday would have been equally ashamed and the parliamentarians must condemn this and take action against it," he said.

The leader of the opposition said that the culprit was caught fifteen days after the incident and whoever is involved in this heinous crime must be punished strictly.

Commenting over Shehbaz again, he said that CM Punjab is a failed minister who cannot maintain peace and security in Punjab. Quoting cases over harassment, Shah said that in 2017, 43 cases were registered in Punjab. In 2016, 51 cases were registered, 66 in Kasur, 43 in Muzzafargarh and 43 in Lodhran.


COMMENTS
Comments are moderated and generally will be posted if they are on-topic and not abusive.
For more information, please see our Comments FAQ