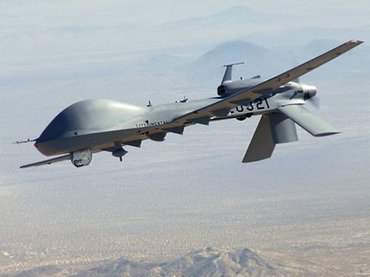 ---
PESHAWAR: Pakistan on Wednesday condemned a US drone attack in the Kurram tribal agency, saying the latest strike targeted an Afghan refugee camp.

The strike, reports claimed, allegedly killed a commander from the Haqqani network and his two accomplices.

But Pakistan said the target was an Afghan refugee camp. It did not say whether any militant was killed in the drone strike.

PAF can shoot down any drone violating Pakistani airspace, says air chief

"Pakistan condemns a drone strike in Kurram Agency carried out by the Resolute Support Mission (RSM) this morning, which targeted an Afghan refugee camp," said a statement issued by the Foreign Office hours after the drone strike.


PHOTO: EXPRESS

Foreign Office spokesperson Dr Muhammad Faisal said Pakistan had continued to emphasise to the US the importance of sharing actionable intelligence so that the appropriate action was taken against terrorists by Pakistan forces within its territory.

"Pakistan has also been stressing the need of early repatriation of Afghan refugees as their presence in Pakistan helps Afghan terrorists to melt and morph among them," he added.




"Such unilateral actions, as that of today, are detrimental to the spirit of cooperation between the two countries in the fight against terrorism," the spokesperson said.

The drone attack in Kurram Agency came amid growing friction between Pakistan and the US since President Trump's New Year tweet slamming Islamabad for not doing enough in the fight against terrorism.

It also happened a day after deadly attack on an hotel in Kabul in which scores of people including foreigners were killed. The Afghan intelligence officials claimed that the attack was carried out by the Haqqani network and that the explosives used in the assault were 'made in Pakistan.'

The Kabul attack prompted the US to reiterate its demand seeking action against the alleged hideouts of the Haqqani network.

Pakistan, however, denied such allegations and insisted that there was no organized terrorist infrastructure on its soil.

The pre-dawn strike took place more than 50 kilometres from the Afghan border, in the village of Mamuzai in the Kurram tribal area.

The US embassy in Islamabad declined to comment and there was no immediate comment from Nato forces in Kabul.

A senior government official in Kurram told AFP that the drone fired one missile at a two-room compound, killing the militant and destroying the building.

He named the dead man as Nasir Mehmood, alias Ihsanullah Khurya, and described him as an Afghan national and a "mid-level commander of the Haqqani network".

"The US drone remained in the air even after the strike and was flying there for almost 15 minutes," the official said.

Two Pakistani intelligence officials in the area also said the US had carried out a drone strike, but according to their information the drone fired two missiles and killed two militants of the Haqqani network in the compound.

A source close to the Haqqani group confirmed that at least one mid-level Afghan commander had been killed.

With additional input from AFP